Life Matters® campaigns for full legal protection for all unborn human beings and for the removal of pressures which prevent a woman from choosing life for her baby.
This page provides an overview of the campaigns we have run, most recent first. You can click on the links below to take you directly to the relevant sections.
You can click on each image to go to the campaign's dedicated webpage.
Amnesty Travesty (2015)
Amnesty Travesty was a joint campaign between Life and Right to Life.
Since Amnesty launched its campaign to remove the protection of the right to life of the unborn child from the Irish constitution, we had a number of our supporters and the wider public approach us concerned about this violation of human rights principles.
In response, on the anniversary of the Royal Assent of the 1967 Abortion Act on October 27 2015, we launched the Amnesty Travesty Campaign to highlight the consequences of abortion in the UK, as well as to enable our supporters and the public to petition Amnesty International to speak up for the over 8 million lives lost from abortion in the UK and withdraw its campaign to repeal the Eighth Amendment of the Irish constitution.
 Stop GM 3-Parent Babies (2015)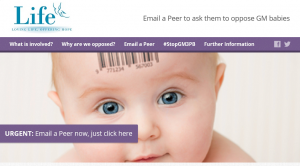 We launched Stop GM 3-Parent Babies in early 2015, urging people to contact their MPs to vote against the proposed Human Fertilisation and Embryology (Mitochondrial Donation) Regulations of that year. Our dedicated website included resources, explanations of the proposed techniques, and an 'Email a Peer' service.
Finding Hope (2014)

Finding Hope (launched May 2014) used a short animated video to follow the story of Ella, a pregnant woman who is living in an abusive relationship and believes that abortion is her only way out. The campaign raised funds for LIFE's National Helpline and was reported by numerous blog and media outlets.
Not Blinkered (2013)

#notblinkered (Oct-Dec 2013) was Life's first social media campaign. Its intention was to challenge the stereotypes of what "pro-life" people are like. Its dedicated website shared stories from a diverse range of people from all walks of life who are pro-life and not blinkered, to challenge each of us to examine what we think and feel about an issue that causes heated debate on both sides.