Life is a UK charity that provides (1) support services for anyone facing unplanned pregnancy or pregnancy loss, and (2) education about human dignity. Thanks for being a part of this.
Welcome to our Impact page for 2021. Here you can discover how your support for Life is making a difference.
Women reaching out to us for help
Every month we help women as they face the possibility that they might be pregnant. In 2021, 69,159 people reached out to us - that's 190 people every day.
Clients supported by Pregnancy Matters™
Pregnancy Matters™ gives skilled listening, practical help, and housing to anyone affected by pregnancy or pregnancy loss. In 2021, Pregnancy Matters™ helped 5,313 people. That's 443 every month.
Mums and babies housed
In 2021, we housed 422 mums and babies. We gave them a place of safety, as well as the support they needed to become independent families.
---
---
Serving women, men, and families
We're in the business of supporting women, men, and families who are facing pregnancy or pregnancy loss. We closely monitor who is visiting our website to make sure our message is reaching the right people.
In 2021, 66 percent of visitors to our website were women. 34 percent were men. We're pleased to say that the most heavily-visited sections of our website are those offering support. It's great to be able to tailor our use of technology to make sure that people get the right message for their needs at the right time.
You can see some of the testimonials from the people we've helped, below.
This service is fantastic, I have spoken to others about my abortion, but you really understand me. Thank you for being there.
Pregnancy Matters™ email Client
Really appreciate what you guys do.! XX
Pregnancy Matters™ text-to-talk Client
Life does such important work to support women in difficult circumstances.
Life supporter
Thank you for giving me the opportunity to talk about my concerns. It really helped and I was so grateful for the time you gave me.
Pregnancy Matters™ online helpline client
You've been so brilliant, thank you so much for just listening to my worries x
Pregnancy Matters™ client
Thank you for the counselling it has really helped me to move. You have helped me look at my emotions and explore things I had not wanted to look at.
Pregnancy Matters™ client
Pregnancy Matters™ client
This is a fantastic help for women - thank you!
Pregnancy Matters™ client
---
You've helped 70,000 people in 2021!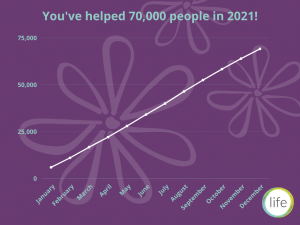 ---
Thank you for taking the time to visit our impact page! We're passionate about supporting women, children and families and are delighted to share with you how we're making a difference. With your help, we are changing lives one woman, one baby at a time.
---
---