Life is a UK pregnancy and maternal support charity. Through our services, we help more than 60,000 people each year meet pregnancy or pregnancy loss with courage and dignity so they can flourish.
Welcome to our impact page. Here you can discover how your support for Life is making a difference.
Pregnancy tests requested
Imagine having a friend who's with you from day one. Every month we help women as they face the possibility that they might be pregnant. By offering free pregnancy tests, we're accompanying women from the very first moment of their pregnancy journey. In October, 177 women asked us for a free pregnancy test every day.
People asking for counselling
We support women, children and families through our counselling and skilled listening service. This service gives them a place of safety - someone to listen to them. This October,12 people used this service every day.
Mums and babies housed
We house mums and their babies who would otherwise be homeless, unsupported, or at risk. We can be a place of safety and sanctuary for them. In October, we housed 236 mums and their babies.
Mums and babies moving on
Whenever a mum and baby move out of our house to independent living, that's a success story. In October, 14 mums and babies moved out of our houses.
---
Baby Loss Awareness Week

Life is proud to be a member of the Baby Loss Awareness Alliance, a group of more than 100 charities and organisations. The Alliance is remembers, raises awareness, and drives change around pregnancy loss and baby loss. Life particularly helps those who've lost a pregnancy through abortion and miscarriage.
During Baby Loss Awareness Week 9-15 October, we participated with the Alliance, who said:
"Thank you to each and every one of you for helping it such a success. It has been a wonderful opportunity to bring everyone together and give anyone touched by pregnancy and baby loss a safe and supportive space to share their experiences and feel that they are not alone.

"Last night's #WaveOfLight messages of remembrance and hope brought many people together …

"All the charities that are part of the Baby Loss Awareness Alliance are here to offer support."
---
A mum and baby in a Life House are flourishing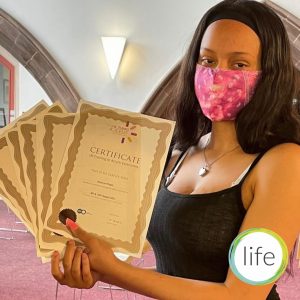 A good news story from one of our Houses … a mum and baby who are flourishing.
She gave birth earlier this year, and both mother and baby were doing well. She then signed up for the Princes Trust Fund, and has gone and completed numerous mail courses over the past few weeks.
Life Houses provide the space for her and more than 100 other women to step into their new role as mothers with courage and hope for the future.
We're proud of her achievements and she was happy for us to share her picture with you.
---
Thank you for taking the time to visit our impact page! We're passionate about supporting women, children and families and are delighted to share with you how we're making a difference. With your help, we are changing lives one woman, one baby at a time.
---
---
The difference you've made
Your support has enabled Life to help 58,378 people so far this calendar year. That's 5,844 in October - 189 every day that month.
---