Sitting on the train home from Sheffield Freshers' Fair yesterday, Clare shares her thoughts.
After Life had been explicitly rejected for being prolife by Liverpool, Leeds, Manchester, Roehampton, Northampton and Warwick Freshers fairs this year, I must admit I was curious and slightly nervous to see how our stall would be received at other Freshers' Fairs.
Today Life attended Sheffield and Liverpool John Moores University. Our experiences in both universities were very positive.
On the train home from Sheffield I'm reflecting, with some incredulity, on the stark contrast between different Student Unions' responses to us being prolife. Today really highlighted that and I'd like to applaud my experience of Sheffield Student Union for their professional, responsible and sensible approach.
It can be easy for us to be a bit too defensive or apprehensive about being publicly prolife. Nobody likes getting told off, and generally, humans (especially Brits, let's face it) avoid conflict whenever they can. Today, however, really showed us that we don't need to be apprehensive or defensive, nor get told off for what we're doing.
What Life offers – on every level – is positive.
Help, support, light in the darkness, hope after grief, options when none seem available.
Our stall at Freshers' Fairs is exactly the same. The frustrating thing is that while Freshers tend to see Life for its care and positivity, certain politically motivated student societies and Student Unions refuse to do so. We are aware that some University Student Unions are officially linked with Abortion Rights. It is from this small but loud minority that Life has encountered problems, not the vast majority of students passing our stall.
Some of the comments from students going around the Fair include:
An Obstetrics students asking who we were. Really positive.
Very good!
Taking a little 12 week foot badge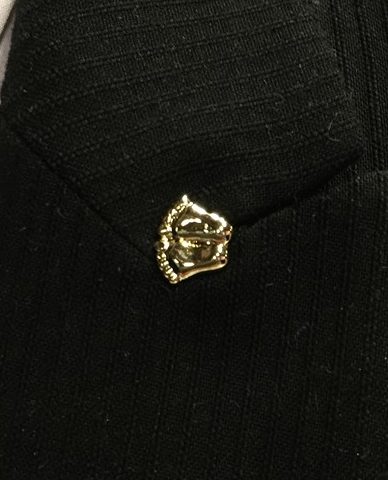 "Hmm…you're prolife..?"
*unsure* [listens about our services]
"ok, that's really good."
Student studying Health and Social Care, taking our Life Before Birth & services leaflet :
"I have to learn about all this as part of my course"
In the middle of her Early Childhood Studies one student successfully guessed the age of our smallest model and took our leaflet saying:
"this is really useful"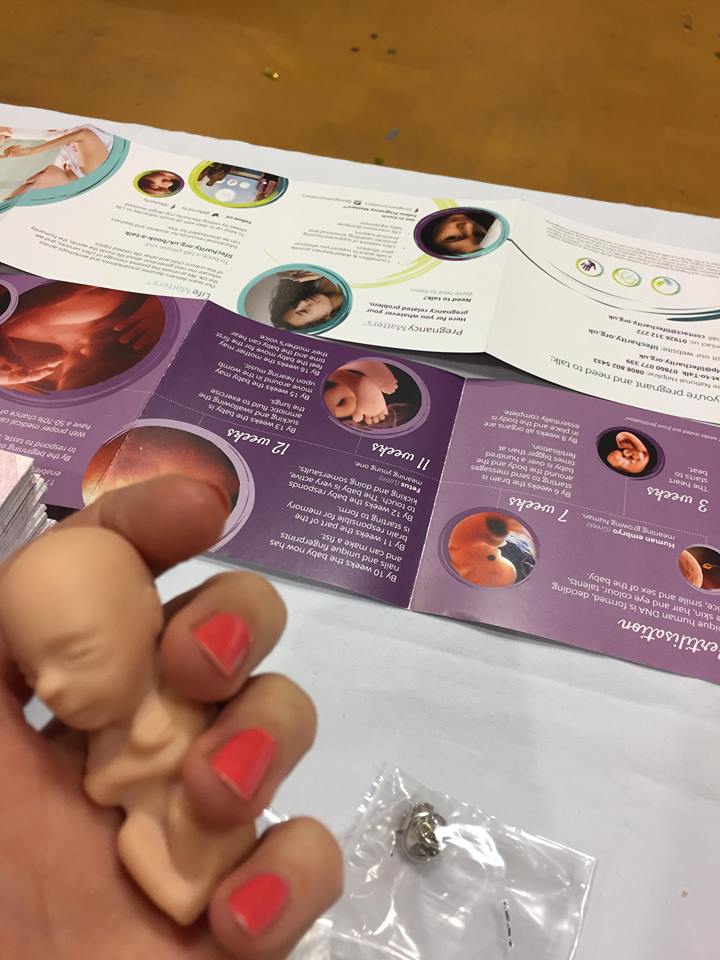 Signed up to hear from Life straight away:
"This is soooo good."
A few guys, doubtful of how our pregnancy stall could relate to them, got chatting about the leaflet…and then our little feet pins. I explained they were the size of a baby at 12 weeks.
"They're so tiny. They even have toes! … I'm taking one.

That has honestly blown my mind …

Mini mini humans"
One 5th year student approached us, curious about the charity and who we were. It transpired she was a 5th year Obstetrics and Gynaecology student and treasurer of the Sheffield Obstetrics and Gynaecology Society. She asked if we might be able to give a talk for their society and took our leaflets and our contact details.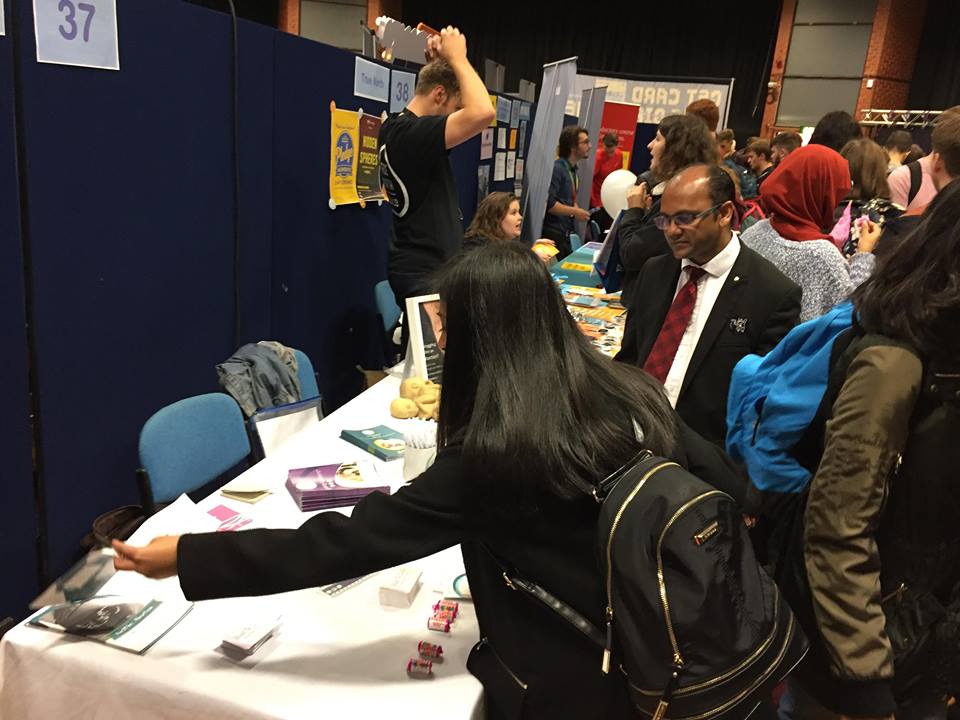 "It's very useful for the students that you are here. Lots of information about this is important."
"This is a really extraordinary charity."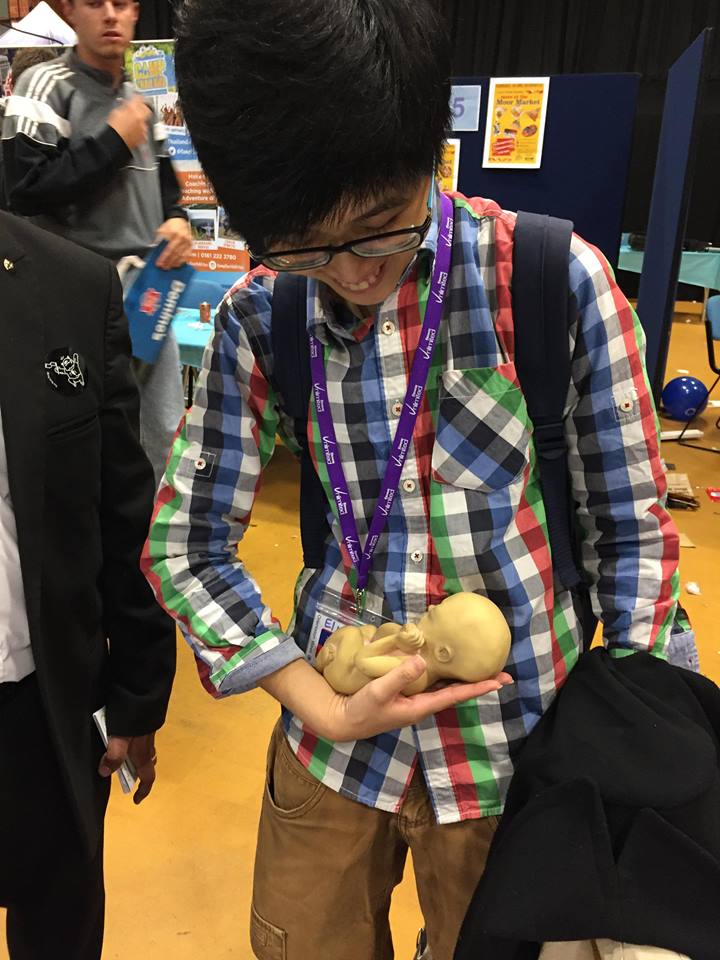 Other responses…
Unsurprisingly, in the climate we live in, there were some people who took objection to prolife people being at the Fair. Within 10 minutes of one student from the student Pro Choice Union group coming over to take pictures and notes of our stall, three other students from that group came to stand next to our stall with signs, handing out leaflets about abortion and BPAS services, and pointing people away from our stall, saying there is 'real' information about pregnancy at their stall on the other side of the hall.
I simply said hi and we carried on. They got bored and left.
The Student Union's Response
The Student Union dealt with the whole day very well. Various different organisers came past to introduce themselves and to let us know how to find them if we encountered any problems. Security came to visit us in the afternoon. They asked us how it was going and checked everything was fine. It seemed that they were aware there were a couple of students who were annoyed at our presence, and simply stated that everyone is entitled to their own opinion. Thanking us for dealing with those different opinions graciously, they were able to report back that our stall was not causing any problems, was positive, and we were not spouting inflammatory, bigoted hate speech. (Who knew!)
An example to be followed
Without bias or bowing to politically correct pressure, Sheffield University Student Union was practical, sensible and efficient. We were treated like equals. I was heartened by the experience and call on Student Unions across the country to act with the same professionalism as Sheffield. To the prolife students at the University, like this student quoted below, it must be a relief and comfort to know your views are not immediately rejected by the body that is supposed to represent and care for you.
"Are you prolife?!

Great!

I just wanted to show my support!

Thanks for all you do."
Mark at Sheffield Freshers' Fair, 26/09/2018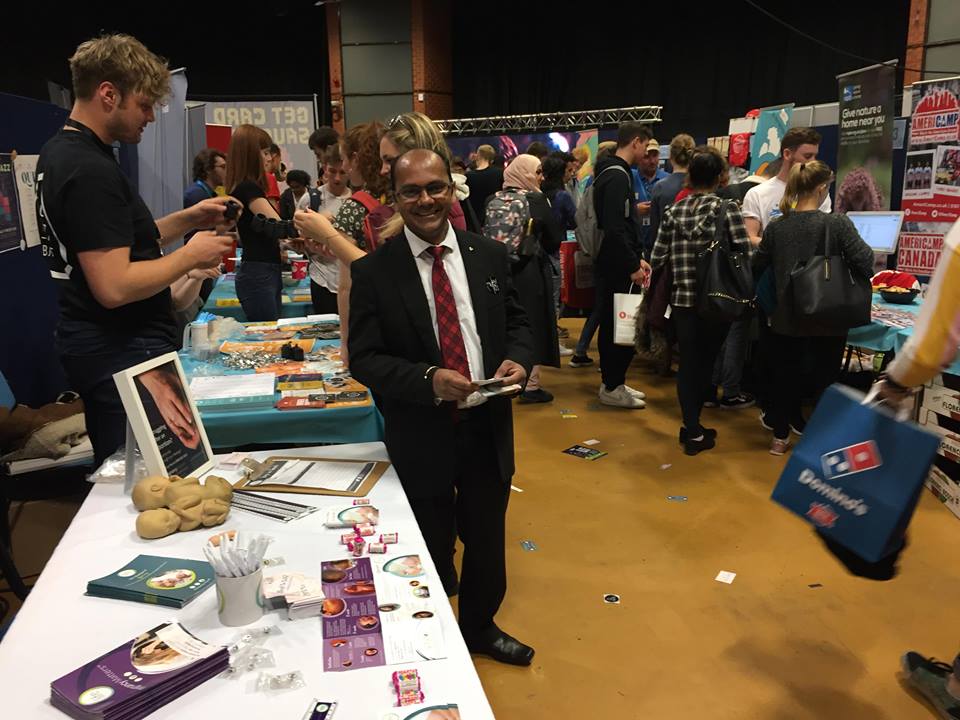 Liz and Ryan at Liverpool John Moores Freshers' Fair, 26/09/2018