On 23rd May 2019, Amnesty International projected their 'Now for Northern Ireland' slogan onto buildings in Belfast, Dublin, Glasgow, and London in celebration of the Irish vote to repeal the Eighth Amendment one year ago.  
The purpose of their latest publicity stunt was to pressurise Westminster into enacting direct rule on Northern Ireland by repealing our laws that protect and value children who are not yet born. Indeed, Amnesty's campaign manager for Northern Ireland, Grainne Teggart, stated, 'The UK Government must act now to end the harm and hurt caused by our inhumane and discriminatory near-total abortion ban [emphasis added].'1 Given that abortion is a devolved issue, however, such an act by Westminster would be to ignore the devolution settlement.  
Moreover, it would be contrary to the will of the majority of Northern Irish people despite Amnesty claiming that, 'There is huge support for Westminster to reform Northern Ireland's abortion law . . .amongst the Northern Irish public'.2 In truth, a recent ComRes poll revealed that 64% of Northern Irish people believe that changing the law on abortion should be a decision for the people of Northern Ireland and their democratically elected representatives – not Westminster.3 In February 2016, our representatives in the Northern Irish Assembly debated the law on abortion and voted not to change the law. A vote that ought to be respected by Westminster. 
Amnesty claim that Westminster are entitled to enact direct rule on Northern Ireland because, 'The UK Government has responsibility to ensure the human rights of all UK citizens, including those in Northern Ireland, are upheld'.4 However, in his Women and Equalities Committee report, Mr. Eddie Hughes MP writes that, 'Aside from the fact that observation of human rights matters is a devolved competency, there is currently no legal imperative for the Northern Ireland Assembly to change the law on abortion arising from current jurisprudence [emphasis added]'.5 For the judgment of the Supreme Court in the Northern Ireland Human Rights Committee (NIHRC) case in June 2018 was entirely non-binding. (You may read the complete report here.)  
So to Amnesty International U.K. I say, you may be willing to reject the scientific consensus that human life begins at conception. You may be willing to accept a philosophy of personhood that, when followed to its logical conclusion, justifies infanticide. You may be willing to leverage the right to bodily autonomy to undermine the right to life. But please do not force your personal beliefs on us, and please do not tell us what to do with our law in Northern Ireland. We should be allowed to decide that for ourselves thank you very much. 
P.S.  
Life did it first.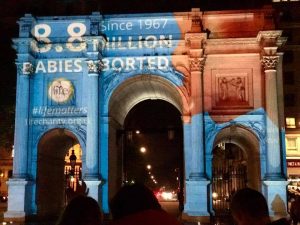 ---
References:
[1] See
https://www.amnesty.org/en/latest/news/2019/05/ireland-one-year-since-vote-to-end-abortion-ban/
[2] Ibid. [3] See
https://www.comresglobal.com/wp-content/uploads/2018/10/2018-Both-Lives-Matter.pdf
[4] See
https://www.amnesty.org/en/latest/news/2019/05/ireland-one-year-since-vote-to-end-abortion-ban/
[5] See
https://publications.parliament.uk/pa/cm201719/cmselect/cmwomeq/1584/158415.htm