Absolutely. Here's why.
The work Life does is a reflection of best parts of humanity. It is compassion, support and care – without any requirements, questions asked, or judgements made.
When speakers go into schools they are both witnesses to the goodness of Life's work and messengers of hope, courage and truth.
Life talks are an essential way of making sure students are aware of the help and support that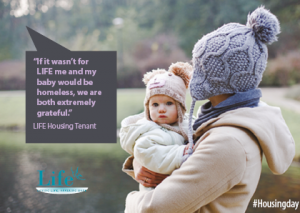 is available to them or anyone who may need it. By spreading a message of compassion, backed up by a promise of housing, help, support, counselling, baby supplies, friendship, and  upskilling, we can literally be lifesavers to the mothers in need of support, as well as to their babies.
Just take this example of the grandmother who approached us with her daughter and twin grandaughters, thanking us for her family as she had been able to rely on Life's Housing in order to have her daughter. After hearing our talk, she urged us to keep letting young girls know we're here for them, just as we'd been there for her. It is vital these students know of the support available.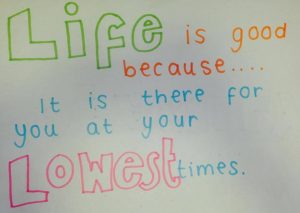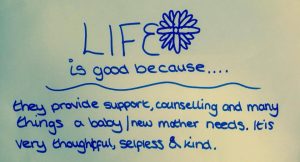 Life speakers are here to empower our young people through education. We challenge the way in which they think and broaden minds so students are able to make good and positive future choices themselves.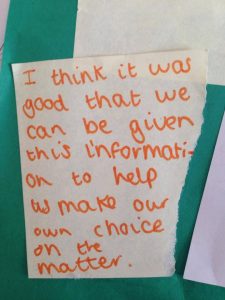 Speakers discuss moral issues with pupils from a different angle to the one they are exposed to all the time in our society. We don't present the pro-life angle as it's presented in the media: full of anger and hate, but truthfully and full of compassion. We dare to represent a different perspective. We challenge students to decide for themselves.
I honestly think every child in the country deserves the chance to see our Life Before Birth talk. It is a non-controversial look at the amazing beginnings of human life. It is biology and it is beautiful. Showing glimpses of what our lives looked like during our first 9 months absolutely delight the children we talk to. Just look at the comments of these year 6s – they're fascinated by the baby's growth in the womb. They think it's amazing. And they're right!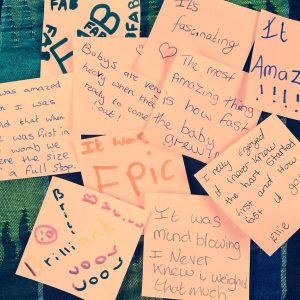 But the wool pulled over society's eyes even fails to let us see this incredible biological process. How can girls and women make good choices during a pregnancy, if they're not fully aware of the development in the womb? How cruel is our society that it allows women to make such decisions about human life uninformed?
Life's post-abortion support services knows how much it has destroyed and crippled women's lives as they discover different facts about human development later. I am certain just the Life Before Birth talk saves lives from future abortions and saves parents from future heartbreak.
Simply talking about abortion honestly and openly, has such an impact. Offering our support services, sharing people's experiences, acknowledging that many struggle after abortions and providing a helpline for all, means people reach out when they need help, and are able to help others when people reach out to them.
And pupils do reach out within the safe space created by the speaker's caring presence. For example, a girl aged 16 who raised her voice to say:
"that's exactly how I'm feeling because I had an abortion a month ago."
She approached us for support, shared her feelings and gratefully receiving our helpline number.  Another example is the boy who thanked us profusely for mentioning the impact abortion can have on men. He shared that his girlfriend had had an abortion. She hadn't told him until a fortnight after it had happened, and he was hugely distressed by it, as well as feeling quite unable to trust in future relationships. Through Life's talks and followed up by our support services people are able to reclaim their own lives and proceed anew.
Life Speakers don't only defend the unborn. We speak out for the rights and equality of all human lives. We stand up for women, men, vulnerable, injured, disabled, suicidal and hopeless, as well as the unborn.
Most lives will not only be saved but nurtured by an attitude, a culture,  that protects and values all human life. Upholding 'choice' doesn't protect, it selects. Selection for convenience, security, happiness – perhaps. But this preference does not favour disability, illness, dependence, those less capable, the elderly, those with differences, autism, mental health problems, the desperate or the suicidal. These are not easy lives. But they are human lives. Equal to ours. Just as valuable. One teacher, who has a severely disabled son, said gratefully and with relief that it was so wonderful to have someone on 'her side'. Countless students and teachers thank us for speaking up for loved ones who are disabled, or vulnerable in some way.
All of our talks affirm that all human life is equally valuable, regardless of our abilities or stage of development. Our pro-life stance drives us to offer essential help and support to those in need. Students who grow up embracing this attitude towards life and care for others is what will save lives.
 "Thank you for helping us deliver such an important part of the curriculum and an even greater lesson on life." Teacher, Oxford