Celebrating 100,000 lives and changing the narrative
If you follow the news or listen to MPs in Parliament, you might think that all the momentum is behind the push to legalise abortion in Northern Ireland. It can seem like every week there is a new attempt to convince law-makers that the people of Northern Ireland want to see this change happen.
On Tuesday (26 February), Amnesty International staged a protest in London. Why? To demand politicians in Westminster bring in abortion in Northern Ireland. 28 women wheeled suitcases representing the 28 women who supposedly come to the UK every week from Northern Ireland to seek an abortion. Some actresses and politicians joined the protest and the media swarmed around them.
But there is another voice
Both Lives Matter is a prolife organisation that is proving that there is a large swell behind a movement that rejects abortion and proposes a better way: where mother and baby are given the best care available. Indeed, the Life way! 
So, whilst Amnesty International was causing a stir, I had the pleasure of joining the Both Lives Matters campaign to celebrate the 100,000 lives being lived because of Northern Ireland's abortion laws. A group of women marched on Parliament to remind our politicians that abortion in a devolved issue. It should be decided on by the people of Northern Ireland.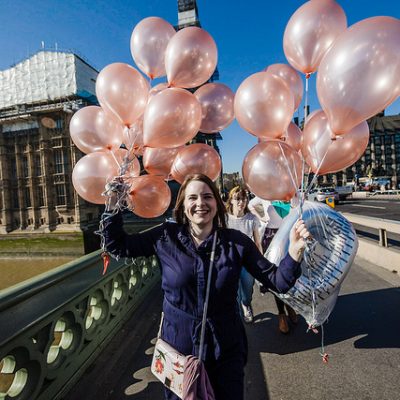 What is our proposal?
Seeing those 28 women walking across Westminster bridge made me sad. Hearing the stories of those who joined Amnesty International's protest was sobering. Women can be compelled to come to the UK for the most heart-breaking reasons. But in the face of hardship and uncertainty, abortion is not the answer. These 28 women are being failed. But not because abortion in their home country is not available to them. Rather, they are being failed because they feel they must end the life of their unborn child to solve the problems they are facing.
We propose a different solution. At Life, we value the rights of women and their children. We want to see a society that has the utmost respect for all human life from the moment of fertilisation. And we believe that opposition to abortion must go have in hand with the provision of positive alternatives. That is why our Pregnancy Matters™ service exists in Northern Ireland. It is there to provide housing to those in need of shelter. It provides practical support for those struggling to get all they need for the arrival of their little one. And we offer a safe space for women and men to talk through their pregnancy-related concerns without judgement.
Both Lives Matter
Ultimately, our celebration on Tuesday of the 100,000 lives being lived because of Northern Ireland's abortion laws was a reminder to the Government that there is a different narrative. There is the narrative in support of life. Whatever they say, we stand by Both Lives Matters. We are proud to work for an end to abortion through positive alternatives, one woman, one baby at a time.
Read more from the Both Lives Matter press release here: https://bothlivesmatter.org/press-release-women-march-on-westminster-highlighting-100000-alive-today-because-of-ni-abortion-laws