18 churches stood in solidarity with Life Link One this October to commemorate the all-too-brief lives of babies who did not live to birth or beyond infancy.
The churches were participating in in Life's Baby Loss Memorial initiative, which encouraged places of worships to create reflective spaces where there is tranquillity and an opportunity for contemplation and commemoration.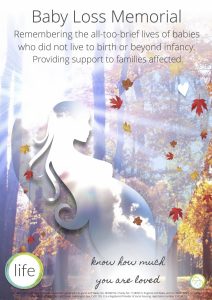 Baby Loss Awareness Week fell on 9-15 October, with 15 October being nationally recognised as Pregnancy and Infant Loss Remembrance Day. October also saw the 50th anniversary of the 1967 Abortion Act; the Memorial project was part of many events happening during the year to commemorate the 8.8 million babies' lives lost to abortion in our country in that time.
We provided the churches with a Baby Loss Memorial pack, which included a beautiful A3 memorial poster, prayer cards, a collection of Life's Helpline cards, and information leaflets about our Pregnancy Matters™ service. Life has experienced counsellors and skilled listeners to help anyone affected by baby loss. Our service helps clients acknowledge their feelings, explore ways of living with their loss and move forward positively.
Thank you to all the churches and Life volunteers who helped make this such a success. Your efforts are helping Life to normalise prolife thought, humanise the preborn baby, and bring our caring and non-judgemental services more into the public sphere.