Education Officer, Clare Plasom-Scott, reflects on the importance of good and honest education and calls for support from readers to help Life reach more students through school talks.
Partnered with Pregnancy Matters™' support of pregnant women, the Life Matters® team works tirelessly to change hearts and minds regarding abortion through education.
"One child, one teacher, one book and one pen can change the world. Education is the only solution"
Malala Yousafzai
How education will change the world…
We believe that more honest and compassionate education regarding these issues is what is needed to bring about a prolife future; a future society that will respect all human life and demand the proper help for those in need of support, friendship, housing and care.
Education Officers are invited by teachers into schools across the country with these aims:
To present factual information
To inform students of Life's services
To encourage discussion
To be witnesses to a caring prolife way of life
To educate is to allow thought and understanding
We believe it is vital for young people to have the opportunities to learn all the facts, opinions and arguments surrounding such important issues, to be able to discuss and ask questions.
They think so too: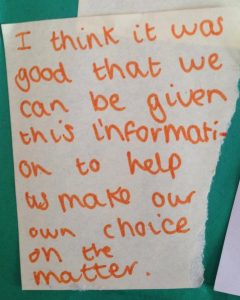 For a satisfactory education and most importantly to help students prepare for their futures, I genuinely believe every child deserves to understand the facts of our human biological growth, and through the incredible development in technology, see the amazing glimpses of human life inside the womb.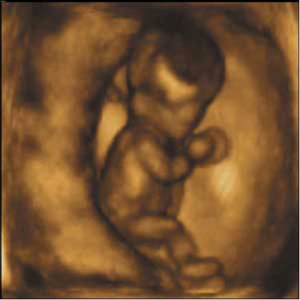 Only when they see with curiosity and eyes open, can we ever hope for these children to grow up making informed and educated choices about their lives and the lives of their future children.
And honestly, if a whole generation grew up knowing that biological growth: that we're unique from fertilisation; that the heart starts to beat at 21 days; that we can hear and retain habits from inside the womb, I think abortion would become a tragedy of the past.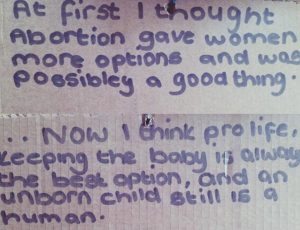 We have to empower people before they face these difficult situations rather than allowing for heartbreaking pain of gaining knowledge after decisions are made.
With this knowledge students can make educated decisions about the way they live their lives. It's not just about taking a moral stance on abortion laws, but changing our lives for the better. As prevention is better than cure, Life also runs healthy relationships sessions that are integral to the issue of abortion and are loved by teachers and students.
We're not scary
It's an age old human issue to find things, people, and opinions scary if they deviate from what 'I' know and think. However, the fact that Life Matters Officers represent an alternative view does not mean we're scary, or judgmental, or angry, or forceful, or unpleasant; or any of the other things the 'anti-abortionists' are described as, like the prochoice lobby would have you believe.
We're not.
The talks are very well received and 95% of schools are returning schools. Teachers invite Life Matters Officers in year after year. They value our speakers for their integrity, honesty and sensitivity; for our competence in dealing with these sensitive issues, and our understanding of the school and pupils' needs. We are always happy to show our presentations to teachers beforehand and discuss any concerns.
Teacher feedback from December 2016:
"Thank you so much for your factual presentations, it was not coercive or preachy and the students appreciated your humble approach to the topic, they felt comfortable asking questions and were fully engaged for the whole hour."
How you never realised you could help life-saving work
The thing is though, we all went to school and we all know amazing teachers who are good, passionate educators with integrity. Perhaps you even are one?
You're holding the keys to powerful opportunities – a chance for students to empower themselves with knowledge; to build an amour of equality, respect for all humanity and compassion; and to choose how to live their futures to save themselves from harm and heartbreak.
Perhaps if we unlocked all these doors, together, we could change the world.
Will you help us?
If you are a teacher, a governor, a parent, a friend, who has a contact with a school…
If you would like to know more about our education work…
If you are a student with questions, or a desire to set up a prolife group…
We look forward to hearing from you – please get in touch at: annescanlan@lifecharity.org.uk