Reflections on the Lambeth fiasco
This week…
Life hit headlines once more over the fiasco that was our expulsion from Lambeth Country Show. Papers such as the Evening Standard, Brixton Blog, The Third Sector, Wandsworth Times, Civil Society and Local Gov (as well as prolife and religious platforms which included global papers) all chose to cover this story due to its unusual and confrontational nature.
How often does the underdog of a small charity stand up to a rich London borough council and are legally vindicated?
How much more unusual is it to hear that that underdog was in fact a prolife organisation?
This was why it was such an important process for us to go through and why it was such a victory.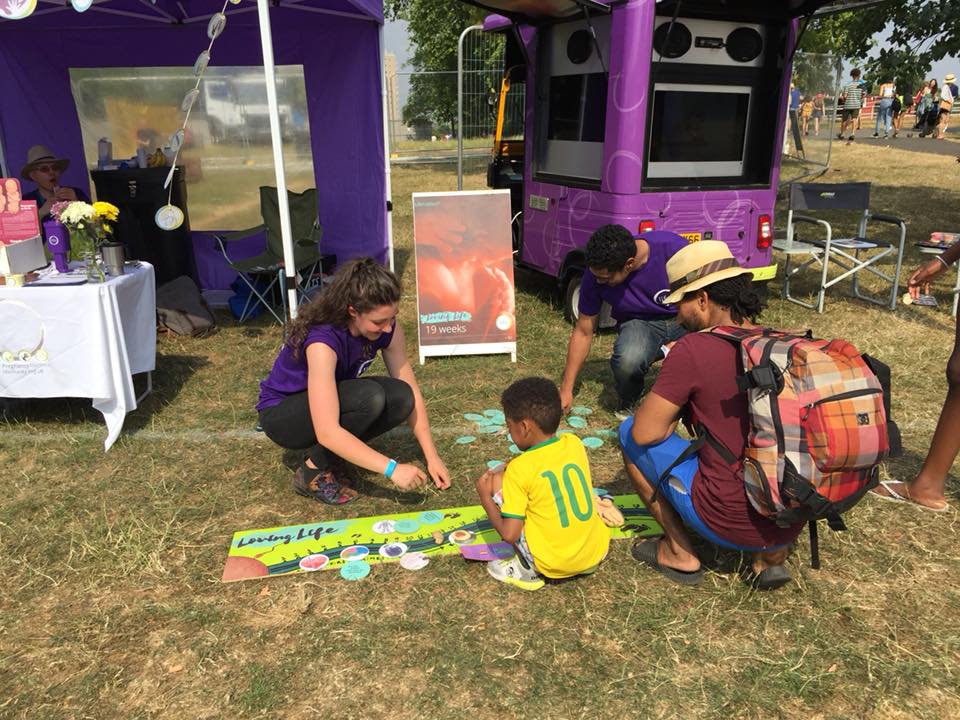 Last year in July…
I arrived at the showground where we had been the day before, promoting our services, leafleting, and playing games with families their children passing by our stall …. all about the wonders of pregnancy and what we can do to support those in need.
That morning though, I arrived to meet dejected volunteers, a defensive and unapologetic show employee, and all our belongings no longer on our pitch.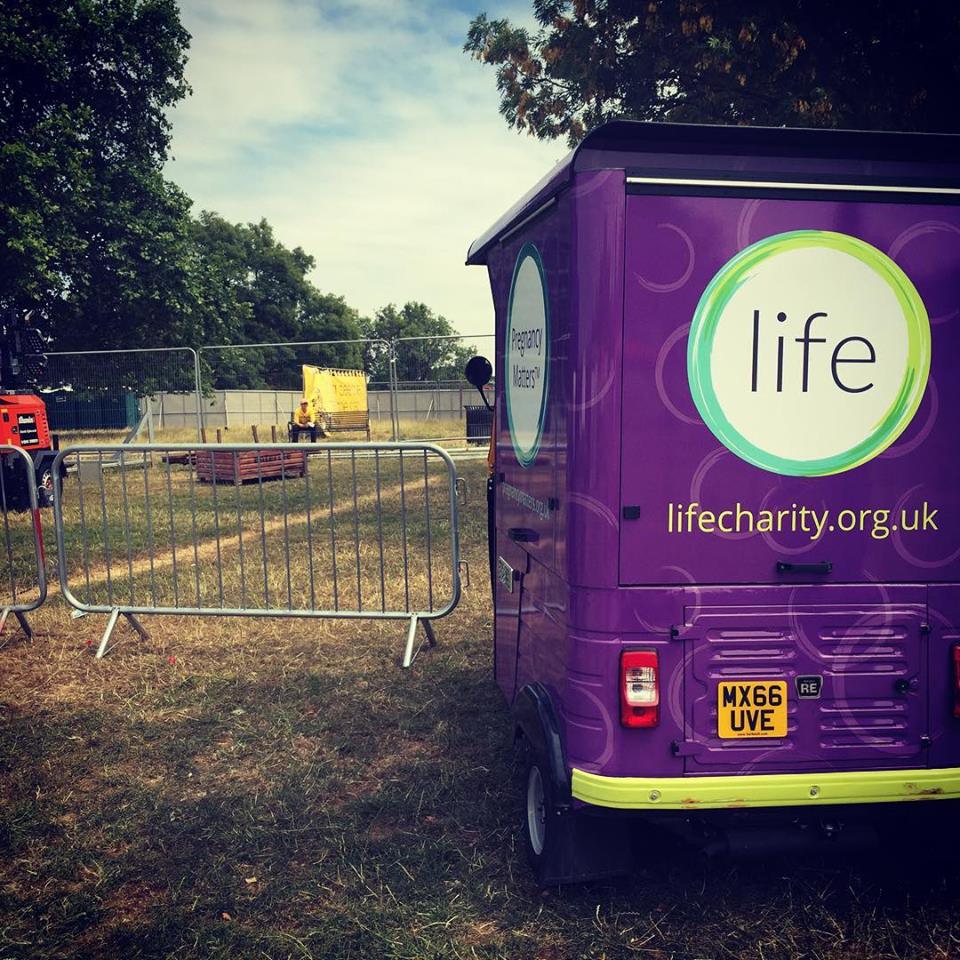 Meeting two official organisers of the show I sought to ask them what was going on. As a relatively short woman I must admit, irrespective of my ample sassiness, I felt pretty intimidated by these two 6ft+ men towering over me. They told me simply and without explanation that we had to leave the showgrounds immediately and arrange for our tuktuk vehicle to be taken off site.
I took a minute to make sure I was calm and confident in my reply. I simply asked what the reason for this was. Needless to say, no reason was given other than something along the lines of:
"conversations were had last night, we're not the ones who made the call, we've just been told to inform you."
(It turns out these 'conversations' were sparked by some aggressive tweeting late into the night of the evening before and early hours of that morning. It was in this twitter spree that false information was spread by Cllr. Ed Davie and that he promised to have us removed from the show.)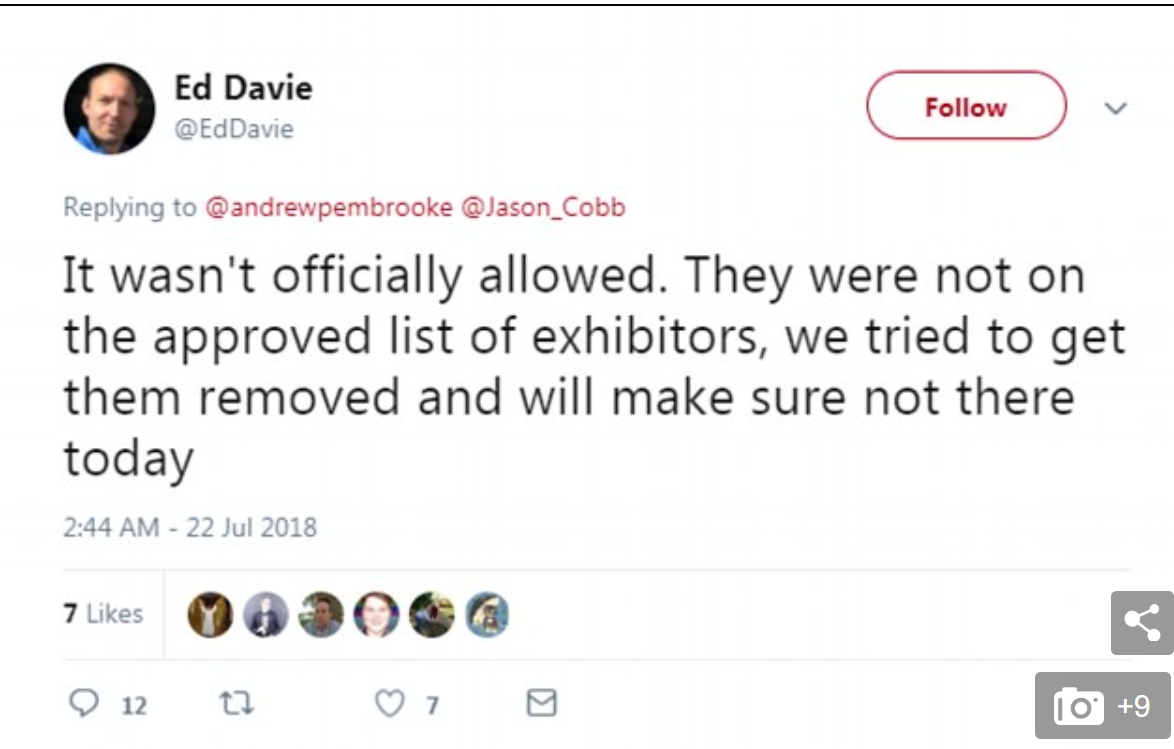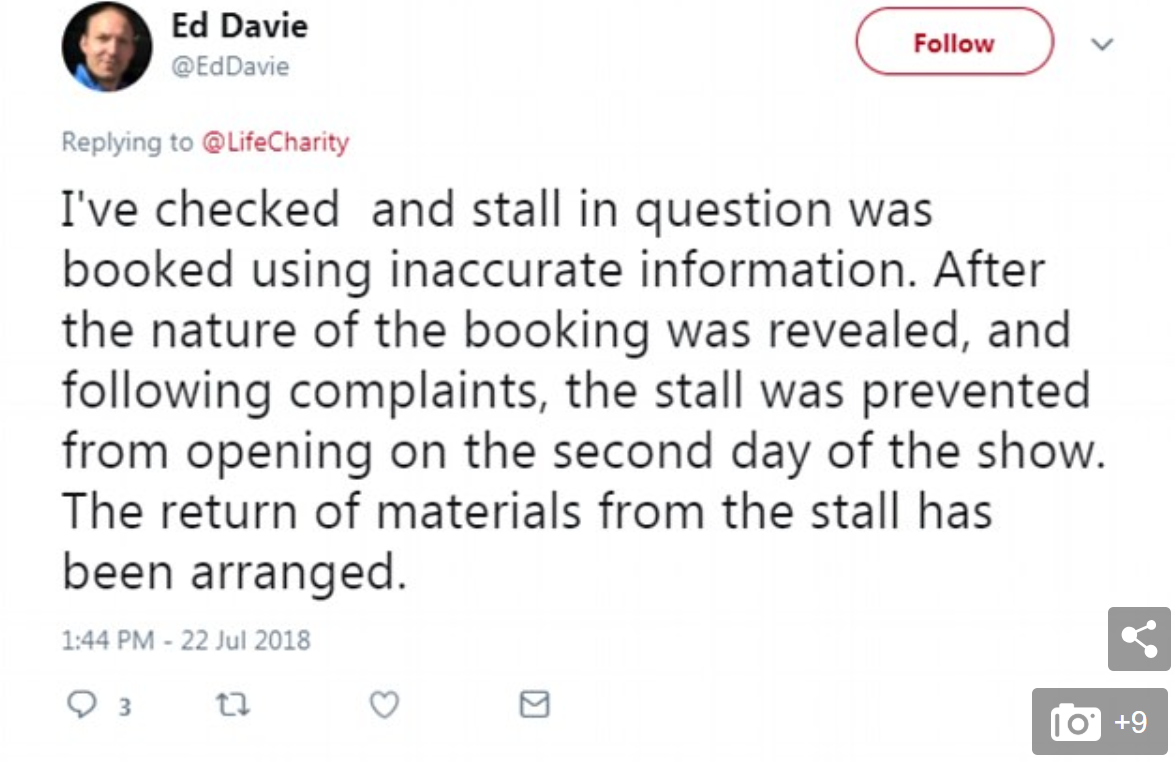 I have a firm sense of justice…
Hence why I devote my working life to Life. And on every level these happenings conflicted with what I believe to be just.
As a charity that has within its mission
'to create a just society which has the utmost respect for all human life'
we had stand up to this injustice.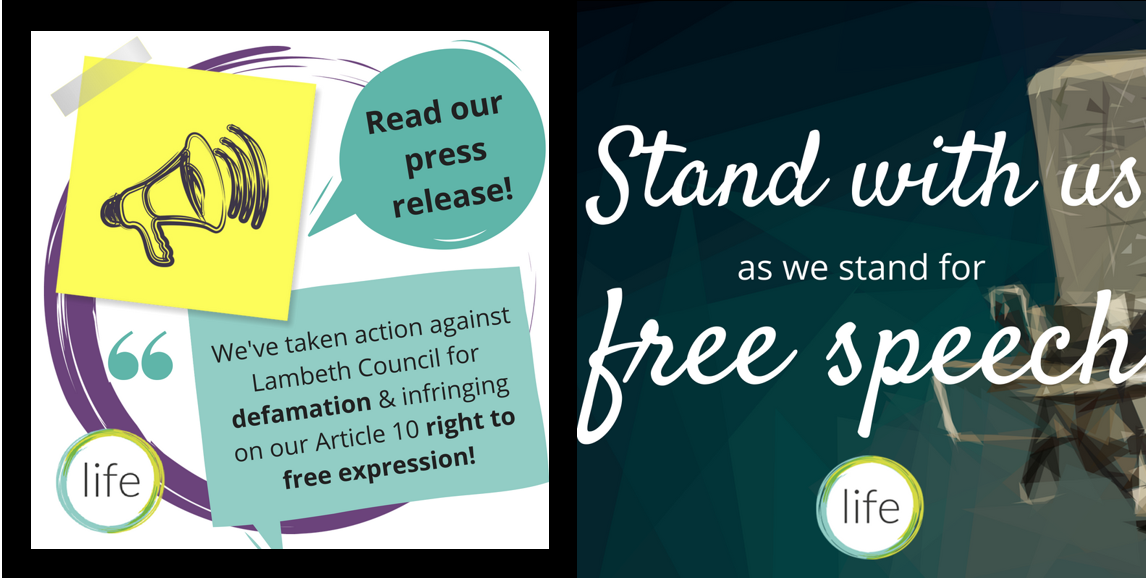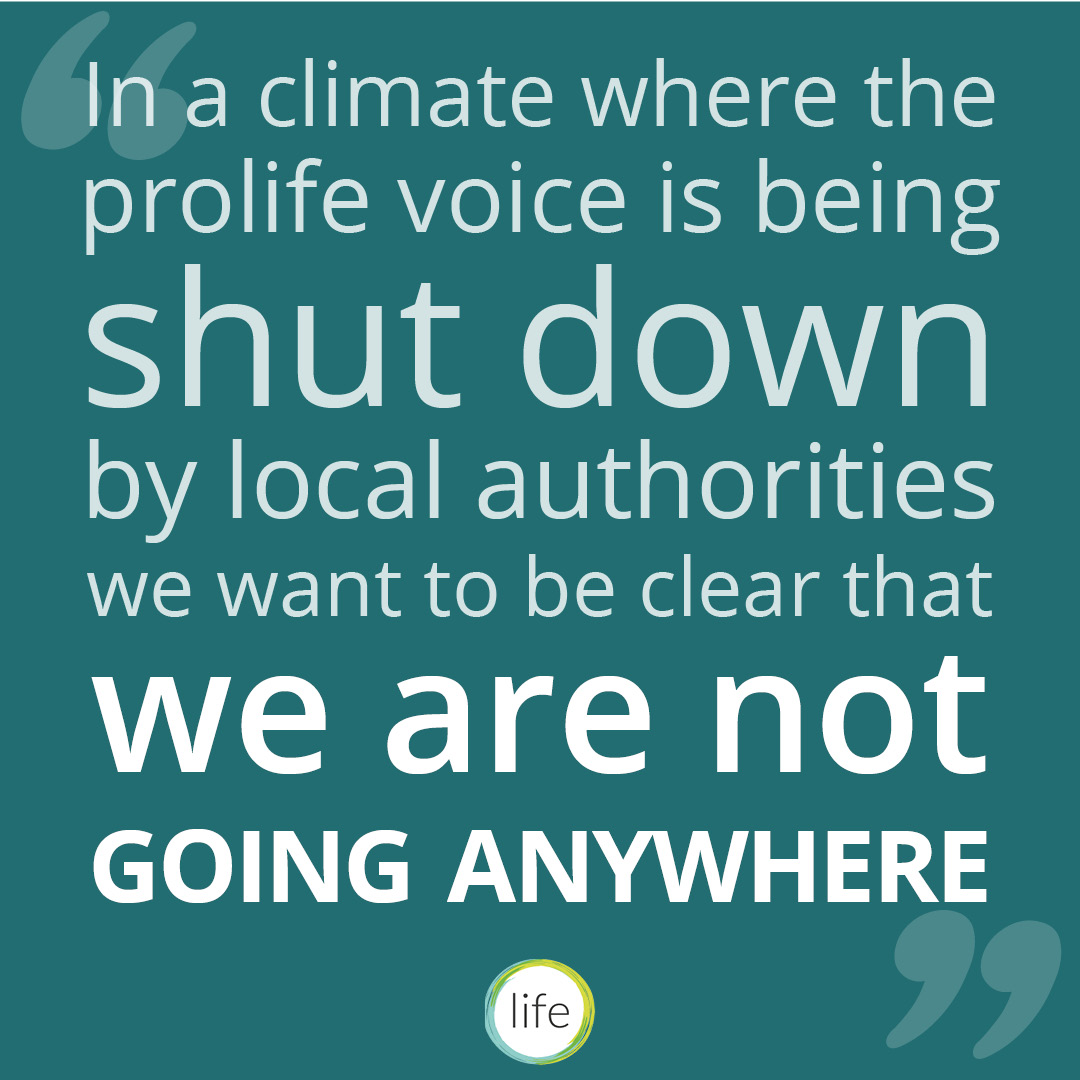 The legal proceedings that followed sought to tread the narrow path of standing up to injustice and being very mindful to be prudent and careful of cost to the charity. I hope you will agree, the level of Life's response was appropriate and proportional.  Aware of the cost of pushing this case further, this settlement, which pays us damages as well as covering our legal costs, was sufficient vindication and steadfastness for the sake of justice.
The money received from the council sent a very important message to the public and is a victory of justice to be celebrated.
But was it sufficient for the injustice we suffered?
In a word: no.
This small monetary compensation only addressed one aspect of our legal claim. The council has still refrained from admitting or apologising for our wrongful eviction. They have failed to give a clear reason for the cause of our eviction. Given we were assured that the behaviour by our staff and volunteers was exemplary, I really want to know:
Was it because we are a prolife organisation?
Was it because people took offence at the baby models we had?
It seems just to expect the council and show organisers to defend the position they seek to take and apologise for any way that their dealing of this situation failed to live up to that standard. At the very least this apology should include:
not ringing the emergency number we gave them in advance of our volunteers discovering our site dismantled
not providing an explanation for me, a confused and upset stall holder participating in their event
Perhaps one could also ask the question: for a council that supposedly celebrates diversity, did they act out of prejudice against prolife people?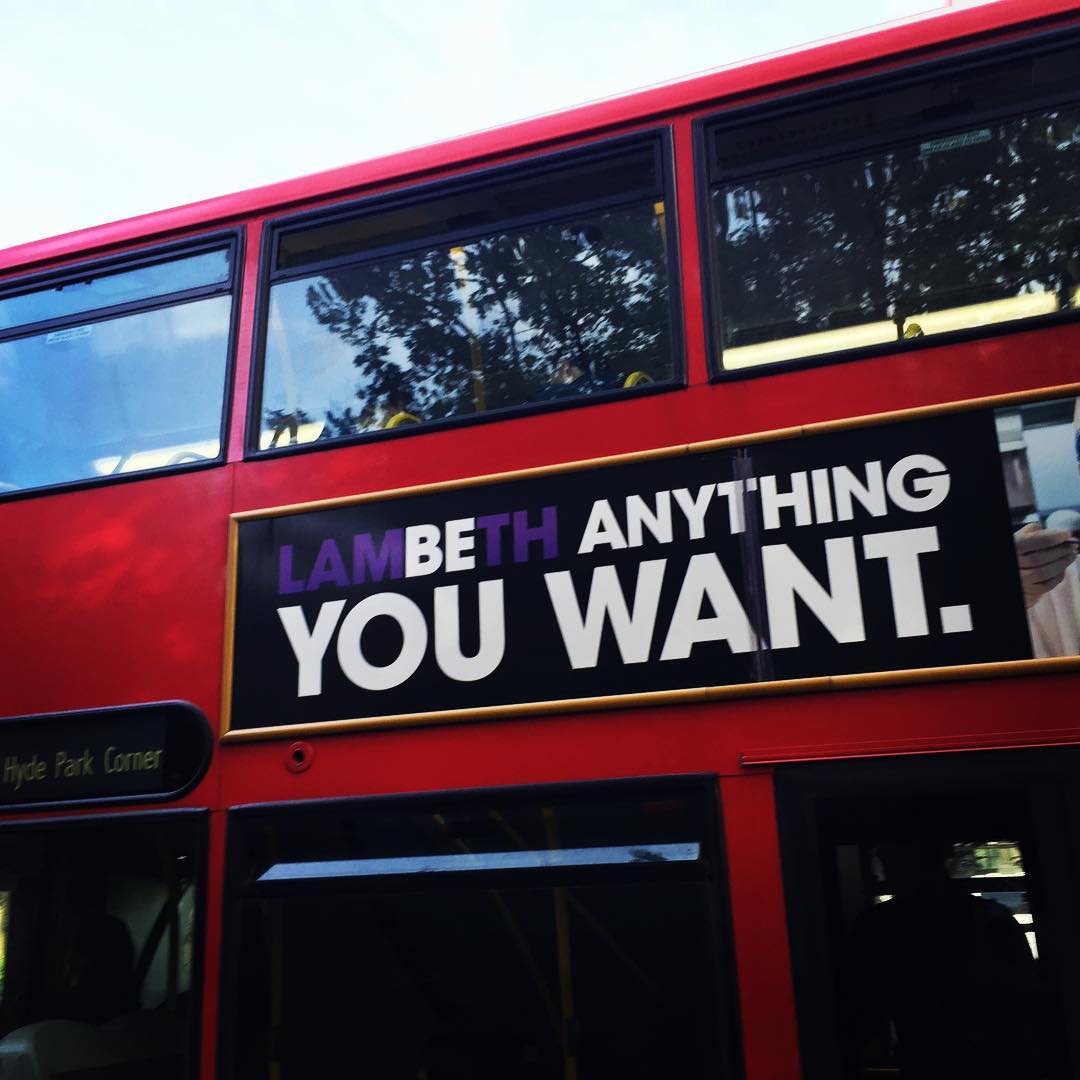 Perhaps you're wondering whether it was appropriate for us to be there?
It might surprise you to hear I asked that exact question and I shared my thinking on this here.  I'd love to hear your thoughts. 
Are we going back I hear you ask?
Well, that's where this story is passed into the hands of the show organisers to continue. We have sent in our application again this year.
They have a choice:
They can uphold their slogan Be anything you want and celebrate diversity and different charitable organisations and causes within their borough.
Or they can decline the application and make it clear that people who are prolife, or even not outwardly celebratory of abortion culture, have no place or representation in their borough.
We hope Lambeth will consider this carefully and chose to support the vulnerable pregnant women who use and need Life's support within their borough.
We await this decision with great anticipation.