Today, Life Link One opens their brand-new office in Leamington Spa!
We're also welcoming the National Team to our new office.
Life Link One, 4 Jephson Court, Tancred Close, Leamington Spa, CV31 3RZ
01926 312272
Last week was moving week, with the National Team members at Mill Street packing up and helping Link One to move into our Tancred Close office.
We're on the top floor of the Tancred Close building. The offices include two open-plan spaces, with kitchen facilities, toilets, storage rooms, and additional breakout rooms for meetings and for Life FertilityCare.

This move is also a key step in Life's decentralisation. The old Head Office at Mill Street is no longer operational, having been replaced by a much-leaner National Team, based around the country and within regional Hub offices to support the regional Hubs.
The sale of our old Head Office at Mill Street has also released funds for us to invest in Life's relaunch to help us make abortion a thing of the past.
We also had a lot of fun and hard work during the move – thank you to everyone who helped!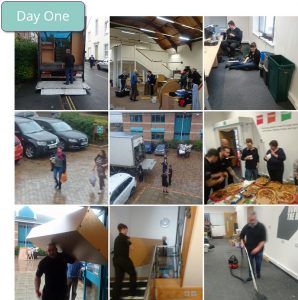 On Day One we moved the majority of our items from Mill Street with the help of DTS Nottingham, who've helped us in the past with courier services.
That's Stephen, our CEO, on the bottom right, doing vacuuming!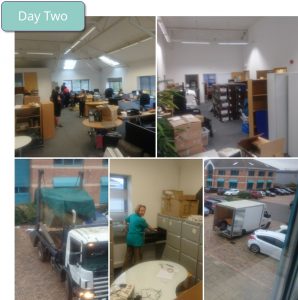 We spent day two moving the second lot of furniture from Mill Street as well as dumping the last of the excess into skips. We also filled up the storage rooms at the Tancred Close offices.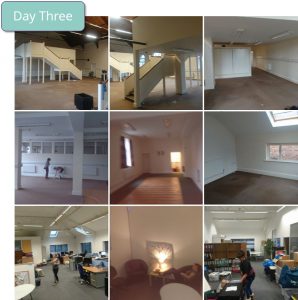 Day three saw Mill Street completely empty and us doing a major sort of our files and literature into storage at Tancred Close.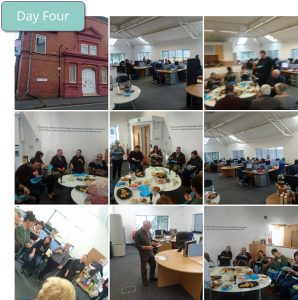 Incredibly, most of the work was done by the morning of day four! Already, most of us had set up our desks and were starting to respond to emails and phone calls again. We had a celebration lunch and said hello to our friendly neighbours downstairs.