The Joint Committee on Human Rights launched an inquiry into freedom of speech in universities. Read Life's written submission below.
Introduction
Life welcomes the opportunity to respond to the Joint Committee on Human Rights' inquiry into freedom of speech in Universities.
Life is a prolife charity offering housing, support and counselling to thousands of women facing unplanned or crisis pregnancies each year.
Our caring work is motivated by our desire to create a just society which has the utmost respect for all human life from fertilisation.
Our Life Matters® team delivers compassionate prolife talks in schools and universities to over 28,000 students per year.
This submission draws on Life's experience at universities across the country and the obstacles faced by Student Unions (SU) regarding free speech.
There are two key issues:
1. Enforcement
It is currently unclear who is responsible for ensuring that universities are compliant with their obligations under section 43 Education Act (No.2) 1986. This has allowed for the infringement of convention rights of those with legitimate views on campus, particularly students and speakers who uphold the scientific truth that life begins at conception.
2. Ambiguous status of SUs under current legislative frameworks
Whilst Universities UK acknowledges that SUs fall under the remit of the Education Act and therefore are required to guarantee freedom of speech in universities, the NUS disagrees.
The NUS argues that SUs are registered with the Charity Commission and are therefore subject to charity laws and regulations. This includes obligations to investigate 'controversial speakers' under Charity Commission guidance published in 2013.[1]
To ensure free speech on campuses, the statutory duties of SUs is in urgent need of clarification.
Education Act 1986
Section 43(1) Education (No.2) Act 1986 imposes a statutory duty on universities to secure the freedom of speech of students, employees of the establishment and for visiting speakers.
The duty imposed by s43(1) necessitates that university premises cannot be denied to any individual or group on account of their beliefs or objectives.
We believe that the Education Act does and should cover the activities of SUs.
Human Rights Act 1998
Article 10 of the European Convention on Human Rights protects an individual's right to freedom of expression; a freedom formally incorporated into UK law by the Human Rights Act 1998.
The law's protection extends to expression that may shock, disturb or offend the deeply held beliefs of others.
Prevent Strategy 2011
The purpose is to prevent extremism and individuals being drawn into terrorism.
'Extremism' is defined in the 2011 strategy as vocal or active opposition to fundamental British values. These are outlined as "democracy, the rule of law, individual liberty and mutual respect and tolerance of different faiths and beliefs".
Life believes the Prevent strategy and the statutory duty to ensure free speech appropriately balances Convention rights and public interest considerations.
Yet, whilst the law may strike the correct balance between guaranteeing free speech and tackling terrorism, policy must be made clearer on the legal status of SUs.
If SUs believe they are exempt from their obligations under the Education Act, then the legal balance between statutory duty and 'Prevent' becomes irrelevant, as SUs will be able to act with impunity and arbitrarily limit speech they dislike. Life has witnessed this from numerous universities recently.
Evidence of non-compliance with the Education Act 1986
Since 2012, Life has experienced widespread non-compliance of SUs regarding their obligations under the Education Act to protect freedom of speech on campus.
Brunel University
On 19 September 2017, Life Matters® officers (LMOs) attended Brunel University Fresher's Fayre after booking and paying for a stall months in advance.
During the event, SU representatives asked two LMOs to "put away" the fetal models presented on our table. We were told the models (below) were "political" and "offensive".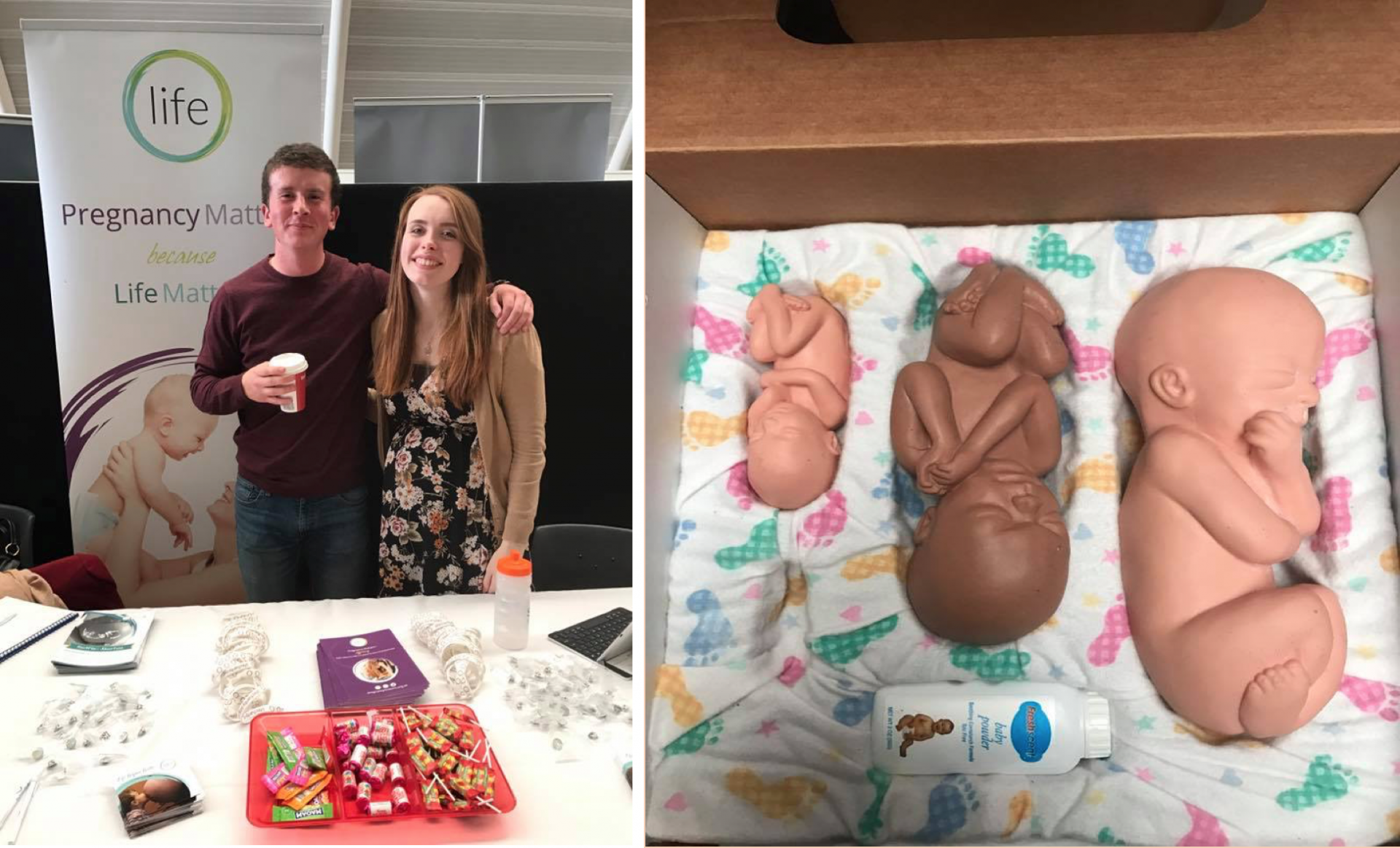 Most of Life's literature at the fayre highlighted the scientific development of the baby in the womb or explained the charities' support services.
Despite hundreds of positive discussions with students (one student mother who faced pressure to have an abortion from her GP was pleased to see practical support being offered to young mothers on campus), the Vice President of Brunel's SU, bowed to pressure from student feminist groups and released the following statement:
 "We are very sorry that we accepted this booking at our Fresher's Fayre, this was a mistake. The booking was taken through a transitional period between staff and was not scrutinised with the level of depth that would normally be expected, and the staff did not fully realise what the stand would involve… We will be gifting any money raised from the booking, along with matching funding from the Union to our Women's Officer's Campaign budget. We will be updating and delivering appropriate training to ensure that our staff have the necessary tools and experience to not let this happen again."
 Liverpool University
On 21 September 2017, LMOs attended Liverpool University Fresher's Fayre after booking and paying for a stall.
Within twenty minutes, one LMO was taken into a private room by three SU representatives. Interrogated about the work and beliefs of Life, she had to prove the counselling and skilled listening that was advertised was BACP regulated.
For half the day, at least one LMO could not be present at the stall due to being continuously called away by SU representatives. Meanwhile, our remaining LMO received verbal abuse from another society.
LMOs were forced to put our fetal models "out of sight" for the "wellbeing of students" who may be "upset" by them.
Nevertheless, the vast majority of students were very receptive, including one student who was pregnant and inquired about the baby's development.
Bolton University
On 2 October 2017, Life attended Bolton University Fresher's Fayre.
Just prior to the event, LMOs were contacted to clarify the stall's contents. Concern was expressed over fetal models. LMOs explained that the models were scientific and used in primary schools.
During the fayre, LMOs were hounded by SU officials who sought the removal of the models. Politely refusing, LMOs demonstrated how popular the models were with students. The SU thanked LMOs for how successfully the day was handled.
King's College London
This year, one LMO was due to give a talk at King's College London to members of their Life Society. The talk presents the charity's work, highlighting opportunities to support pregnant women in London.
The SU later informed King's Life Society, that it could only proceed if a security guard and safe space marshall were present with a member of the KCLSU Senior Leadership Team to "monitor the content" of the event.
Eventually, the talk was cancelled as "charities were not allowed to use room bookings to recruit student volunteers". Neither was an informal discussion in the SU cafe allowed.
Oxford University
In 2014, Oxford's SU banned Life advertising anywhere on campus, after a motion was passed by the Union accusing Life's counselling and publicity of being "directive", despite Life prescribing to a non-directive model and being regulated by the BACP.
On 1st November 2017, Breda O'Brien and Lorcan Price were shouted down and unable to continue at an event hosted by Oxford Students For Life (OSFL). 15 students stood up and began loudly chanting for 40 minutes. The protest was organised by WomCam, a subsidiary group of Oxford University SU.
When the speakers were finally relocated WomCam protesters gathered outside and banged on the window while continuing to shout at the people inside.
OSFL secretary, Georgia Clarke, said: "The irony was that the actions of Oxford SU's WomCam, which ought to represent women of the university, resulted in the harassment of many women present for the event, some of whom were driven to tears."
Kingston University
Life volunteers successfully held stalls at Kingston University in 2011, 2012 and 2013. When volunteers applied in 2014, it transpired that the SU had vetoed Life's attendance at an earlier meeting.
Roehampton University
In 2016, Life volunteers were forced to leave Roehampton university premises by Roehampton SU before fresher's fayre started, despite legitimately acquiring a stall.
The volunteers were told that they were not allowed on campus as their presence "may upset" a pregnant student.
The London School of Economics (LSE)
In 2012, Life volunteers were asked to leave LSE's Fresher's Fayre despite previously receiving written confirmation from the SU that they had permission to attend.
The University of Arts (UAL)
In 2012, Life volunteers were asked to leave UAL Fresher's Fayre despite previously receiving written confirmation from the SU that they had permission to attend.
Goldsmiths University
In 2012, Life volunteers were asked to leave Goldsmith's Fresher's Fayre despite previously receiving written confirmation from the SU that they had permission to attend.
Conclusion
Freedom of expression should not be curtailed simply because other people find it offensive or insulting. Democracy depends on being able to express and debate opposing viewpoints.
Life believes that the infringement of free speech at universities stems primarily from SUs rather than university administrations.
Life has witnessed increasing number of SUs having official links to external bodies that promote abortion. This political affiliation has caused opposition, intimidation and otherwise obstruction of prolife activity and expression on campuses, as well as preventing real support, putting vulnerable students at risk.
Recommendations
Clarification of the ambiguous status of SUs
The Secretary of State for Education should state clearly that SUs do in fact fall under the obligations of the Education Act 1986.
Office for Students (OfS)
We agree with the Department for Education that the newly created OfS should be responsible for enforcement of the Education Act 1986 to ensure students are able to consider many different viewpoints, rather than only receiving censored information and ideas.
In addition to the Department's proposals[2], which include imposing financial penalties on non-compliant SUs, we would recommend:
The OfS have an easy feedback mechanism for students to report incidents of intimidation and the stifling of freedom of speech.[3]
The OfS proactively visit universities that have a poor record on freedom of speech and ensure SUs are guaranteeing this right.[4]
The OfS conduct an annual review into free speech on university campuses.
The OfS publicise when universities or SUs are non-compliant with the Education Act.
_______________
[1] 'OG 48 C3 Students' unions: a guide', 2013. http://ogs.charitycommission.gov.uk/g048a001.aspx
[2] https://consult.education.gov.uk/higher-education/higher-education-regulatory-framework/supporting_documents/B%20Regulatory%20Framework%20consultation%20guidance%20FINAL%2018%20October.pdf
[3] Possibly on its website
[4] Suggest using Spiked's Freedom of Speech's montior as a guide.