James Tranter, Link One's Life Matters® Officer, reflects on the past academic year and the feedback he's received for his talks in schools.
I have delivered 117 school talks this academic year – here are seven evaluation forms from some of those talks. Get a glimpse into the kind of feedback teachers and pupils give about our work! (You can read many more endorsements of our Life Matters® work here.)
If you like what you see, why not book a Life Matters® presentation for you school or venue today?
Book Life Matters® presentation
The teacher at this school said this talk was 10/10 useful and 10/10 appropriate for their students' needs. They said that the "children [were] completely engaged throughout" and that it was especially useful for them to see the "models and pictures of the different stages" of the unborn baby's development.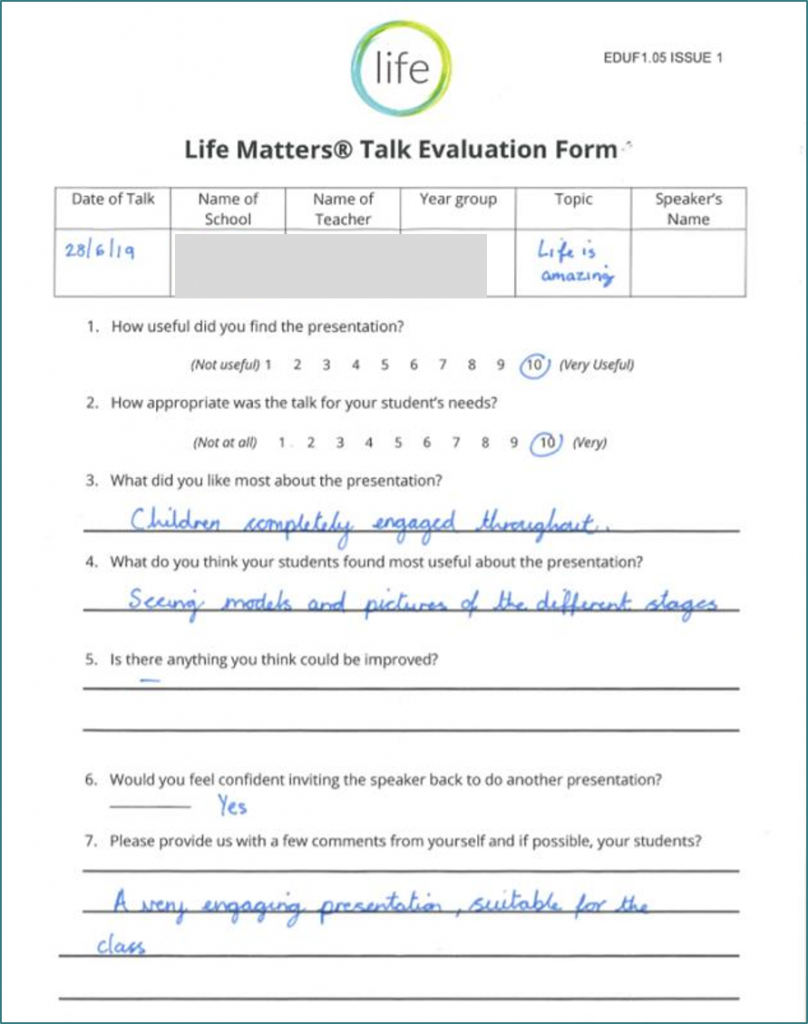 Evaluation form #2 – Abortion talk
This teacher said that our Abortion talk is a "gentle approach to a definite standpoint" – articulating the prolife position with tact and honesty. It was "clear", included "in-depth case studies", and I delivered it with "excellent presentation skills."
This time I delivered a Relationships talk. The teacher commended the talk as "informative", "factual", and "reflective". They called the talk, which looks at the characteristics of healthy sexual relationships, "very engaging, balanced, [and] focused."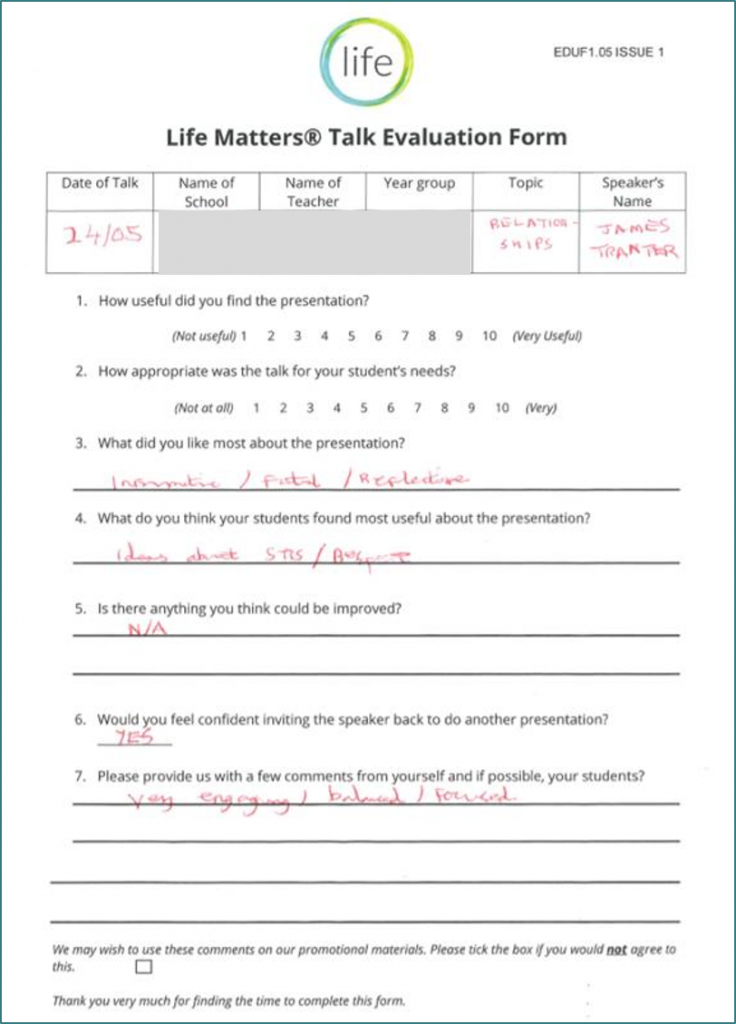 Evaluation form #4 – Euthanasia talk
This Euthanasia talk was "clear [and] concise." It made good use of "story interlaced with facts and questions" to make the prolife case against euthanasia.
"I have listened to this talk for many years and each time am amazed by human life!" said this teacher. High praise indeed!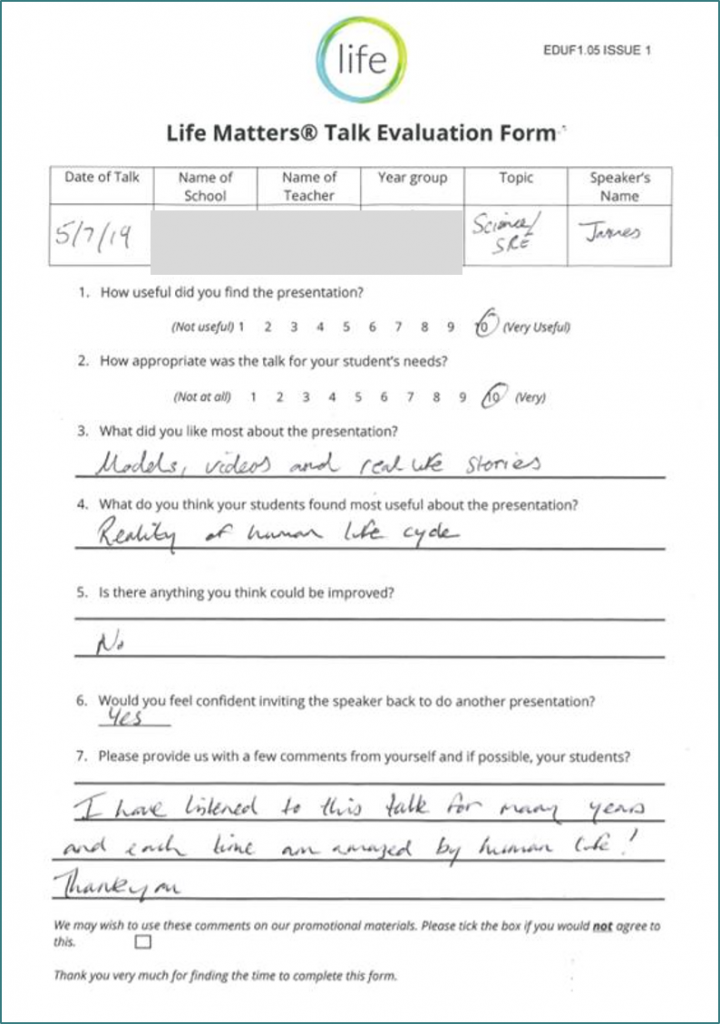 The teacher liked that we "talked openly about sex" in an "interactive" way that "got the students thinking." Feedback from students was that this was a "good assembly" and that "you're really nice"!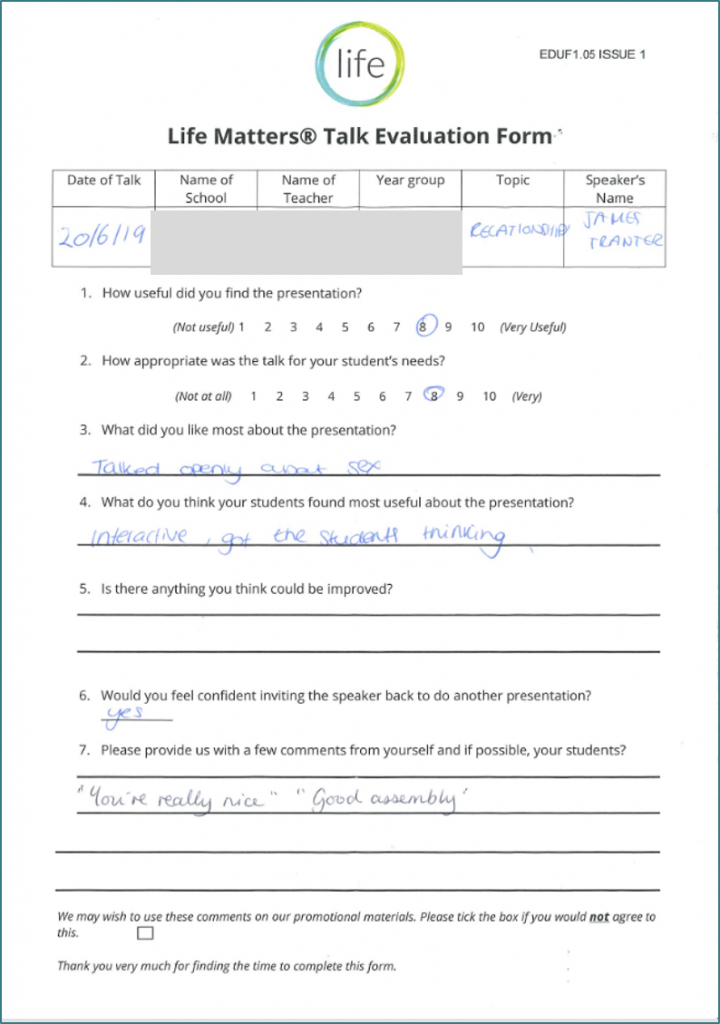 Evaluation form #7 – Abortion talk
Our Abortion talk is "very clear, informative, and pitched at the right level", says this teacher. It was a "fantastic talk to help students explore the complexities of the [abortion] issue."