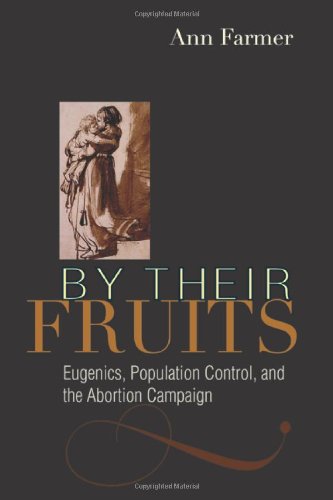 I remember when I first learned that abortion laws in Britain, America and elsewhere were pushed by eugenicists. It was a turning point for me because it showed how being prolife is more than opposition to abortion, euthanasia or human embryo abuse. Being prolife is about believing in certain universal principles of justice and ethics. But there are those who do not believe in these principles. Throughout history and in our modern times, they have called themselves "eugenicists".
By Their Fruits: Eugenics, Population Control, and the Abortion Campaign (Catholic University America Press, 2008), by Ann Farmer, is the first and – as far as I know – the only book that traces the British abortion campaign from its eugenicist roots to the present day. In that respect, this book is invaluable and vital reading for any prolifer, especially in Britain.
Ann Farmer is an independent writer and researcher in Essex, England. She has written articles for Catholic Herald, Catholic Times, Catholic Life, Christian Family, and Nursing Standard. She was also the Chair of the Labour Life Group, and edited Labour Life Group News.
Eugenics and abortion: a 101

Ann Farmer traces the development of abortion from its eugenics days right to the present hour. You might associate eugenics with Hitler and the Holocaust. But it was actually a British geneticist, Francis Galton, who coined the term "eugenics" in 1883.
Eugenics literally means "good genes", "good race", or "good stock." It became an international academic discipline, with research journals, conferences, books, and scientific centres – all devoted to the study of eugenics. The eugenicists believed that they should intervene in human population and reproduction so that the genes of the human race would be improved.
In addition, the eugenicists were almost always radical believers in the theory of overpopulation. The theory of overpopulation originated the writings of Thomas Malthus, an English cleric and scholar, in 1798. He stated that the human population was growing at an unsustainable rate and that by 1890 there would be no food as a result. He therefore advocated restricting access to medicine, killing off the poor, and encouraging high death rates to reduce the population.
Malthus' predicted collapses never did happen. But eugenicists seized upon his theory as a reason for controlling not only the quality of people reproducing, but also the quantity of people reproducing. The Eugenics Society set out its key methods for doing so in its document, 'Aims and Objects of the Eugenics Society' (1934), which included, among other things:
Provision of legalised abortion
Instruction by local authorities on methods of birth control
Provision of voluntary sterilisation
Segregation of mentally-ill persons
Within two years, Eugenics Society members had formed the Abortion Law Reform Association (ALRA). This organisation, from the 1930s to the 1960s, used publicity stunts, misrepresentative polls, and political influence to try to change the abortion law. In 1967 they finally succeeded with the passing of the 1967 Abortion Act, which has resulted in 8.8 million unborn lives lost from that hour to the present day – as well as millions of women wounded and families shattered. But throughout the Abortion Act's conception and long history it has been justified using eugenic reasoning, as has euthanasia and population control.
This information may be surprising. But it is all a matter of historical fact.
A fascinating history
Ann Farmer covers all this, and much more in her book. In doing so she has uncovered some incredible pieces of information. For example, in this book, she describes how:
Abortion, euthanasia, sterilisation, human embryo abuse are all linked by the same philosophy
Eugenicists set up abortion, euthanasia and genetic engineering organisations to remake society as they saw fit
Carlos Paton Blacker, a psychiatrist and World War I hero, took a failing and divided Eugenics Society from the 1930s to the 1950s and then cooperated with Margaret Sanger, eminent American racist, eugenicist and abortion pioneer, to start the International Planned Parenthood Federation at a conference in Cheltenham
American money provided vital impetus at a key stage in the 1967 Abortion Act's passage through Parliament
The abortion lobby twisted polls and reports of backstreet abortions to their advantage
The "new eugenics" is coming to the fore in recent genetic engineering research
Positives
This book has a lot to recommend it for:
Completely unique
For starters, it is completely unique. I am not aware of any other book in the world that covers the entire British eugenics, population control and abortion movement from its start to the present day. If you know of any books that do the same, please mention them in the comments below.
Very well-researched
Ann Farmer draws meticulously from relevant sources, such as the archives of the Abortion Law Reform Association and the Eugenics Society. The book is therefore thorough and well-documented; it also has extensive footnotes.
Vast scope
Ann Farmer has undertaken a huge task and has accomplished it very well. Until now, the abortion lobby has written its own history. They have portrayed themselves as feminists, as compassionate, and as progressive. As it becomes clear through Ann Farmer's book, they were none of these things. They were, in fact, elitist, often racist, controlling, and opposed to intrinsic human rights.
Raises awareness
It raises awareness of an important and key issue in the prolife movement. It is also an issue that is difficult to find all the correct sources and information for. Ann Farmer has done that research for us and succeeded very well.
Helps us to win in the here and now
Finally, this book is important because we can undo what we can understand. At Life, our mission is to create a just society that values all human life from fertilisation to natural death. We are up against a group mind – which Ann Farmer traces – that has taken on the mission of creating the exact opposite: an unjust society that does not value human life at all. But now we in the prolife movement can undo what we can understand, because of work like Ann Farmer's.
Negatives
There are, however, two main negatives that I do need to mention.
The book is expensive – on Amazon it is currently £75! However, I feel that the book is more than worth the money, because it is so unique and so needed at this time.
At times I found it difficult to follow Ann Farmer's line of thought, which was a shame because I wanted to absorb all the information I could from this much-needed book. This did make the book more difficult to read in places, while not detracting from the value of the research Ann Farmer has undertaken.
Ann Farmer 'By Their Fruits' - a goldmine of info about abortion & eugenics. #prolife
Click To Tweet
However, as a whole, the core work of the research is there and accessible to all who will take the time to go through this book properly. This book is literally a gold mine of factual information, meticulously drawn together and presented. It has vastly improved my understanding of the history of abortion in this country. It is book is invaluable and vital reading for any prolifer.
Discussion question: Have you read "By Their Fruits"? What did you think? Would you recommend any other books about abortion, eugenics and population control?