Dear Supporters,
Many of you would have read last year about Diana Johnson's Bill to bring in abortion on demand in England, Wales and Northern Ireland. Her bill has not been able to progress because it is a 10-minute-rule bill and would have to be given time by the Government to be able to pass through parliament.
However there is now a Government bill coming to parliament in the next three months which the abortion lobby and their allies in parliament want to hijack to totally decriminalise abortion and impose it on Northern Ireland. The bill is the Domestic Violence and Abuse Bill which the abortion lobby has been very open about targeting with amendments to introduce abortion on demand.
The draft Domestic Violence Bill whilst declaring that it does not intend to extend territorial jurisdiction on abortion to Northern Ireland does speak of an "alternative approach". This approach suggests that "decriminalising abortion may require the creation of explicit new offences to cover forced or coerced abortion". At the moment Section 58 of the Offences Against the Persons Act (OAPA) makes it illegal to procure an abortion in England, Wales and Northern Ireland (unless in the case of England and Wales, it satisfies the conditions of the Abortion Act 1967) whether by consent or not. We believe what is meant by the creation of new laws to cover forced abortions, is the repeal of Section 58 of OAPA and its replacement with a law which only makes forced abortions illegal. In line with Diana Johnson's bill, once a woman consents, she could have an abortion, anywhere, at any time, for any reason.
We are worried because at this stage the bill is being scrutinised by a cross party group of parliamentarians called the Joint Committee on Human Rights. The chair of this group is Harriet Harman who was amongst the 135 parliamentarians who wrote to the Government last year urging it to impose abortion on Northern Ireland. Also on the committee is Karen Buck who has consistently voted for abortion to be legalised in Northern Ireland. It is entirely possible therefore that the draft bill can be modified within the next three months and what arrives in the House of Commons is a bill which intended to protect women but which instead leaves them more vulnerable and at the mercy of the abortion industry.
We wish to remind you of the following cases where the abortion no-questions-asked culture has resulted in the crimes of sex abusers being hidden. In all of the following cases abortion was used to hide the crimes of child sex groomers.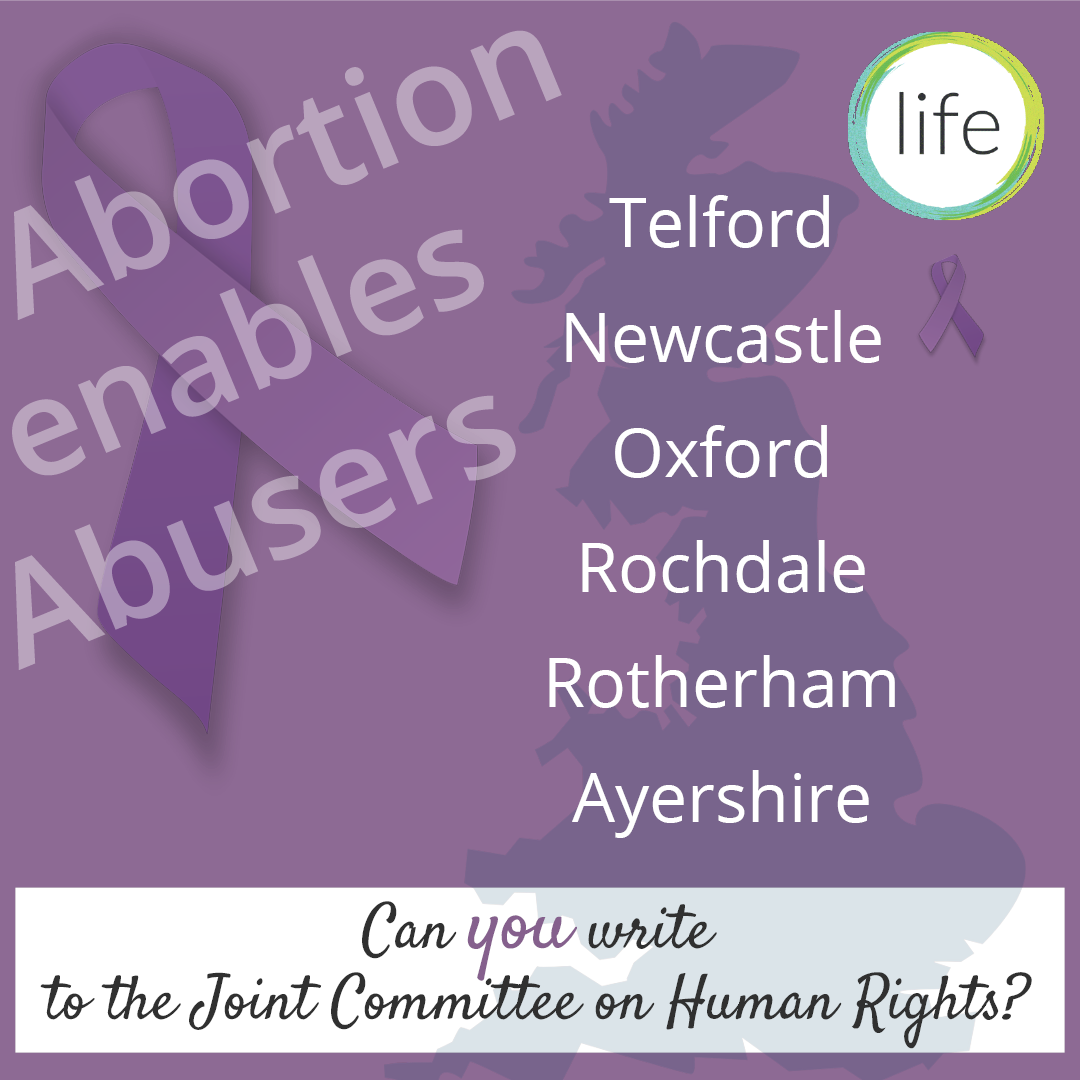 We hope therefore that you can see that any inclusion in the bill which allows for the decriminalisation of abortion will act against the intention and spirit of this commendable bill which seeks to protect women rather than make them vulnerable to abuse.
We urge you to write to the Joint committee on Human Rights no later than 15 February, 2019 at the following link:

https://www.parliament.uk/business/committees/committees-a-z/joint-select/human-rights-committee/legislative-scrutiny/parliament-2017/draft-domestic-violence-and-abuse-bill-17-19/joint-written-submission-form/ .
Please ask them to ensure that the Domestic Violence and Abuse Bill which is presented to the House of Commons is not modified to removal all legal sanctions on consensual and non-consensual abortion and to impose it on Northern Ireland.
The members of the committee are listed below. If you live in their constituency or know any of them personally, please also write to them individually asking them to ensure the bill isn't modified to bring in abortion demand.
Joint Committee on Human Rights
Harriet Harman (Chair)Labour – Camberwell and Peckham
Ms Karen Buck – Labour – Westminster North
Fiona Bruce – Conservative – Congleton
Jeremy Lefroy – Conservative – Stafford
Alex Burghart – Conservative – Brentwood and Ongar
Joanna Cherry – Scottish National Party – Edinburgh South West
Baroness Nicholson of Winterbourne- Conservative
Lord Trimble- Conservative
Baroness Hamwee – Liberal Democrat
Baroness Lawrence of Clarendon – Labour
Baroness Prosser- Labour
Lord Woolf- Crossbench
As ever, thank you for working with us to protect women and their unborn children.
Are you in any of these constituencies? These MPs need writing to!