On 26th September Link One held its first Annual Meeting for staff and volunteers, reviewing our first year and looking forward to the future.
Volunteers left feeling inspired and enthused. Here's feedback from one of the attendees:
"I was really glad I came – I feel a part of the vision now. The inspiration, the vitality of the Hub team brought it all alive! I know where I'm going and I can see how committed the Hub team are to the vision. It's powerful!"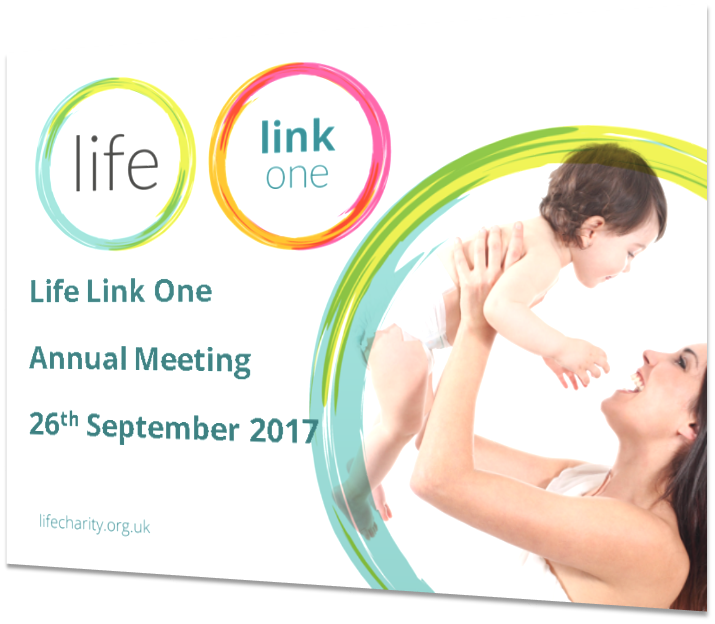 Highlights of the day
Icebreakers and a shared lunch to help people get to know each other
A presentation by Beckie Reeves, Link One Manager, covering our successes, challenges, and plans for the future
An in-depth chat with Stephen Sharpe, Life CEO, about the current state of Life's rebirth
Training sessions, delivered by Pregnancy Matters™
Manager Justine Ennis
Life Matters® Abortion presentation, delivered by Life Matters® Officer James Tranter
"I found it very interesting and informative and the presentation and enthusiasm were excellent."
Life Matters®
Attendees were also excited to learn about how successful the Life Tuk Tuk has been in facilitating conversations with younger people. You can see some of the inspiring conversations we had on our London Roadshow here, on this video shown at the Annual Meeting:
Posted by Life on Wednesday, 13 September 2017
Pregnancy Matters™
Attendees were enthused to learn that we have doubled the number of our Helpline and Text-to-Talk clients by using online marketing, advertising our Pregnancy Matters™ services on Facebook and Instagram.
Make sure to 'Like' and then share our Pregnancy Matters™ posts so that they reach even more people! Here's a link to just one of our Pregnancy Matters™ adverts on Facebook.
"Very satisfied with the day. Had pace and purpose, a lot of new information shared openly. Good to be updated on Link One's priorities and plans for the future. Great to meet other Life volunteers … Excellent lunch and a good central location."
A bright future
Link One is the first Life Regional Hub – the first step in Life's restructure. As a result of this restructuring, Life is becoming more strategic, proactive, and innovative. Stephen Sharpe, Life CEO, also had an informal but very in-depth chat with attendees about the state of Life's relaunch.
Here's what attendees had to say:
"Since re-structuring much more progress had been made than I had appreciated."

"I am pleased to learn how Life Charity is rationalising its resources in order to improve the services the Charity can offer."

"I am happy to see the Charity becoming more proactive."
A thank you to our volunteers for their support
With the support of Life Groups and volunteers, as well as the national team, Link One has had an exciting and – for Life – a groundbreaking year.
The Annual Meeting ended with a short thank-you video to thank staff and especially volunteers for their work making all this possible:
"I loved going to the event – it renews you!"

"The day went extremely well … Excellent, informative, professional and well presented."