I'd like to share with you one of my most precious memories from this year as an Education Officer, and how Life volunteers helped make it happen.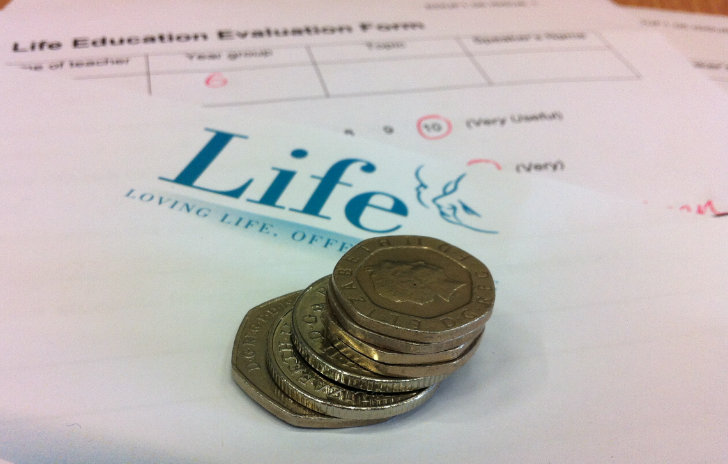 For many years now, a small group of Life volunteers in Birmingham have booked Life Speakers back-to-back in primary schools over the summer in their area. They arrange for us to give our Life Before Birth talk in over three dozen schools – in less than a month!
That takes a lot of initiative and administrative efficiency. But because of their efforts, we speak to more than a thousand pupils about the unborn. It's a delight to hear the amazed gasps, the excited laughter, and the wide-open mouths as we share the baby's incredible journey from fertilisation to birth.
A touching donation
That afternoon's class had been one of the most excited I had ever seen. At the end I was surrounded by about half a dozen pupils all wanting to share stories and ask questions.
Amidst all of this excitement, one of the pupils, a quieter girl, asked to speak to me. She held out something and placed it into my hand. I looked more closely, and saw that it was £1.50.
She said it was "for your Charity." The photograph at the top of this post is the actual set of coins she gave me.
"Thank you so much!"
The Life Before Birth talk is one of the most important presentations in our Talks Programme, because:
It is about the awe and wonder of life in the womb;
It is science-based;
It is about every single person who hears it – their intrinsic human dignity and uniqueness.
"The more scientists have learned about the beginning of life, the greater the wonder has become." – Lennart Nilsson
Take a look at some things pupils and teachers said after a Life Before Birth talk this year. These quotes are taken straight from the evaluations forms they filled out:
"It's amazing how we start so tiny." (Student)
"Incredible … Never in my life have I learned so much in one day about my production and how fast I grow." (Student)
"Today's Life presentation really showed me the phenomena of life and widened my mind to the fantastic discoveries that science reveals." (Student)
"The students were absolutely enthralled and asked many questions. It was lovely to see them thinking so deeply about the wonder of life … Thank you so much." (Teacher)
For all of our Speakers, it is an absolute pleasure to give these talks. And it is a privilege to travel with the pupils on this journey helping them to see their intrinsic dignity.
Volunteers
This cannot happen without the efforts of Life volunteers, such as this group in Birmingham. They did a wonderful job booking us back-to-back, and on their own initiative.
I'm sure you can understand it wasn't easy to co-ordinate so many schools over such a short time. But the rewards have paid dividends because so many schools and pupils have been taken on that journey to understand how special and unique they are.
Question: What difference has a Life Speaker made to your area? Could you help book a Life Speaker for your school or organisation? You can leave a comment in the box below.