As Link Three's public speaker, in my role as Life Matters® Officer, I give talks about Life and on prolife issues. I was invited in to speak to a school's sixth form cohort and yesterday I had the pleasure of making the visit and delivering my talks.
I love getting the chance to speak to young people and encourage them to think well about the sensitive and upsetting reality of abortion in our society.
I see my role as giving permission and time for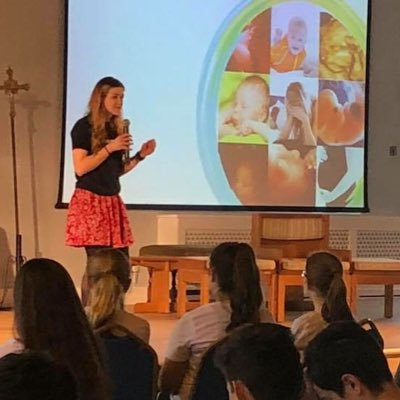 them to really think about this topic. It encourages them to think about the complexity and personal challenges these decisions can involve. And it allows them to see what society tries to hide – how we humans live and grow in the womb.
But something particular struck me about yesterday's school visit. This time it was a comment made by a teacher. She wasn't involved in arranging the talk but had a free period and chose to put aside her marking to pop by to see who the speaker was this week.
She said, entering the hall took her back to when she was 19.
The pupils were discussing, if they were in this scenario, how they might help 'Rebecca' – the client in this particular case study. 'Rebecca' had just finished school, was in the probation period of her first job, had just started dating a good friend, and had just found out she was pregnant. Reliant on her parents, without money or her own place, in a brand-new job she'd worked so hard to get, and a relationship in early days; she was overwhelmed by the timing of this news.
The pupils offered suggestions as to what she might need, what would help.
Yesterday suggestions included: "her options" "talking through how she feels" "finding out whether she can support a child"  "being referred to a counsellor or someone who can support her" they went on..
While this discussion continued our teacher entered the hall. She said afterwards that she'd worked out it was 32 years this month, that she had come home to tell her parents, aged 19, that she was pregnant.
It was quite a flashback to recall that, years before, she had also gone through all those worries. She stayed for the rest of the talk and then greeted me in the staff room afterwards. I had no idea of her experience of my talk today and how personally it hit home.
(This topic is always personal.  Women so frequently are mothers, have miscarried, have had abortions or people close to them who have. This is the first thing we're taught and that must be remembered. And, in doing this role its not something you can forget. We are trained to always be prepared for personal reactions to this topic from anyone we engage with.)
The teacher greeted me and thanked me for an excellent presentation. And she then told me what I have just shared with you. Far from it seeming to be a bit too much for a Wednesday afternoon, she was glad to have recalled it all and so encouraged to see support being offered to students who may, another day, need to know there's support out there for them or those around them.
She also told me that her son was now in his thirties and at a law firm in London.
My heart warmed. Thank goodness for all those women who have bravely chosen life.
I hope my presentation to the pupils might just be the start of a similar story with the same heart-warming ending.