Life's Community Support service works directly with vulnerable families in the local community, taking the service that we offer in our
Life Houses directly into the home of the client.
Our Community Support is available to anyone who is: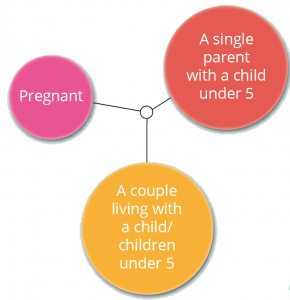 What is Life's Community Support Service?
This service focuses on early intervention work and tenancy maintenance. Support Workers build relationships with families in their local
community, visiting them in their own homes to help them address areas of need.
With each new family, a Support Worker develops an individual Support Plan to highlight where extra help is needed and will work with
the family to set achievable goals. Through subsequent sessions, the Support Worker helps the family to work towards these goals.
We also signpost families to where they can find further help from other agencies, meet other new parents, and build a support network
to sustain them in the longer term.
For further information or to make a referral download the referral form linked below.
Click here to download the form
Complete the referral form and return by email:
Phone: 02890 438 339
Email:  lifeni@lifecharity.org.uk