Liz Lloyd, Head of Life's Pregnancy Matters™ Service, shared a powerful client story of love and loss at the launch of Life NI's new perinatal service last week.
"Today I want to share a journey with you, a journey of a client. In sharing parts of this journey it will hopefully highlight the importance of the service we are launching here today.
Edwards syndrome
Katia was referred to us in her 18th Week of pregnancy. She had just been given the news that the baby she was carrying had Trisomy 18…. Edwards syndrome.
Our first session began with Katia weeping….uncontrollably crying for a good 20 minutes. Why? Because she was already in a process of grieving; grieving the loss of " a perfect pregnancy".
Her world had broken
The session moved forward with her telling me how her world had broken. Within that first session she identified a very integral thing, that she could not here herself think.
For clients such as Katia on being given such heart breaking news, the offer of a safe space to explore what is happening for them at such a critical time is essential, having time to reflect on feelings, understanding the here and now and visiting what the "bigger picture" of the future may look like for them is all crucial -necessary, in fact. Dedicated time and having a space to refer the individual, "allows" them to be away from the place of "finding out". 
Denial and anger
Because of the "urgency" of Katia's situation, we accommodated another four 50 minute sessions within a short space of time. Within these sessions we encountered denial and anger, practically walking hand-in-hand.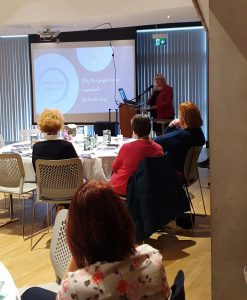 Denial; entering a "numbness", wondering how she could go on, if she could go on, why she should go on? Finding a way to simply get through each day.
And an anger; that, in the early sessions, had no limits… fired towards her partner, the doctors, the person who gave her diagnosis, her family and herself. We explored her thoughts around her extended family and conversations that were, or were not, happening.
Exploring her thoughts
But in each session, a place was reached where she could explore her thoughts around her pregnancy. Helping the client explore in a non-directive way, helping the client hear themselves – that is so important. Why? Because they are the ones that need to be affirmed. The person at the centre of the journey must always be the client.
For Katia that journey was to continue with her pregnancy. With this move forward came a shift in the support we were able to provide for her and her family. We accommodated parent classes for her, looking at how the birth would differ to her previous pregnancy. We provided a "be-friender" to support the needs within her family, and we moved the counselling sessions to a more manageable pace, managing "acceptance" and what that brought with it.
Sky Angel
Katia soon gave birth to a little girl, "Sky Angel". 5 days after birth she was back home with her new baby.
Several months later Katia and her extended family, who had all gathered round her in support, were faced with the loss of Sky Angel due complications of the heart.
An "accepted" grief
The grieving process began again for Katia, and although there is the sadness and once again, the loss, it was eased a little for Katia because she had been able to, in her words, "do it my way". In her mind she has a peace that she did best by her little girl, she allowed her daughter to have memories, " special days" with her baby sister. And the grief, it is there, but it is an "accepted" grief .
…This service that Life NI is launching today will be here to help you to support your patients, your clients when they need that extra listening ear."
If you've been effected by Katia's story, do not hesitate to contact our free and confidential helpline on 0808 802 5433. To read more about the launch of Life NI's new perinatal service, please click here.