Life has 23 houses around the country for over 200 mums and babies. Take a look inside one of them this Easter.
Imagine being homeless and pregnant, or homeless with a new-born baby.
You're unsupported. You're alone. You're not safe. You don't know where to go, or what to do.
That's where Life's Houses come in. Our network of supported accommodation across the country gives them a roof over their heads. Our Life Skills programme also ensures that mums can live independently and confidently care for their children once they leave our care.
Their time in the House is like a refuge or safe harbour for them to get back on their feet. And it's in these Houses that little stories like these happen.
In our Taunton house, the mums, their babies, and the Support Worker, Michelle Durand, enjoyed an Easter cream tea together.
"It was so lovely seeing them relaxed and laughing," said Michelle.
One of the baby girls was turning one. The night before her birthday her 18 year old mum, with help from another tenant, stayed up late icing this beautiful cake.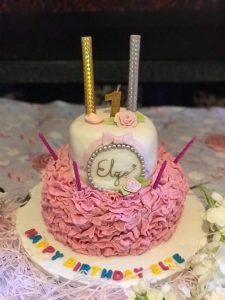 They'd baked the cake two days before with one of Life's volunteers. This is all part of the mums learning to take care of themselves and their little one.
They copied the design from a picture she'd seen and liked. She'd never done anything like this before, so this was a big step forward for her!
Vicky O'Brien, Link Four Manager, said simply, "We are so proud of our tenants."