Every year, our wonderful staff and volunteers who run Life's Pregnancy Matters™ online service, come together to develop their skills and the professional service. They've just returned and are sharing some insights and reflections on their work.
What is Pregnancy Matters™ online?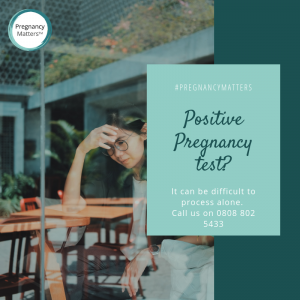 Pregnancy Matters™ online is a professional service run by Life to provide emotional and practical support to women, men and families facing difficult pregnancies. It can be accessed by phone, email or text. This service provides support for a range of pregnancy-related issues including:
crisis pregnancy
infertility
abortion
miscarriage
stillbirth
All staff and volunteers adhere to the guidelines of the British Association for Counsellors and Psychotherapists (BACP). In addition, the service is accredited by the Helplines Partnership to ensure professional quality of provision. In May it supported 355 new clients.
How does it help?
For women, men and families facing pregnancy-related difficulties, it can be a very isolating time. Pregnancy Matters™ online is there to listen to clients and explore how they are. Our BACP trained counsellors and skilled listeners take the time to understand the unique situation each client is in. They offer a safe space for clients to explore their feelings and circumstances. By doing this, they help clients sort through what is going on for them. Every month, this service supports hundreds of clients. And for many, our team are the only people they can speak freely with. For more on this, see our impact page.
"[It] really helped me to get a focus…thank you"

"Thank you so much for the support"
Tell us about the conference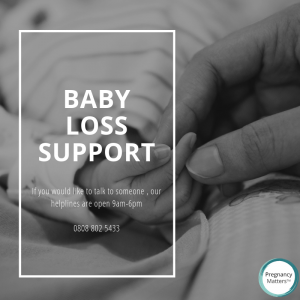 This year, Pregnancy Matters™ staff and volunteers focused their professional development on training around pregnancy loss and post-abortion support. With an estimated 1 in 4 pregnancies ending in miscarriage and over 200,000 abortions in England and Wales in 2018, the need for support for this client group is growing. Moreover, a previous miscarriage or abortion can impact a client's approach to a future pregnancy.  And so training on this subject is vitally important.
What the team had to say about it
Clare, one of the most recent members of the team, attended the conference for the first time this year. Here's what she thought:
It was really great to meet everybody. It was so helpful to understand more about what clients are going through. I am really impressed with the professionalism of the service. It is so important that we are offering quality care to people at such a critical time. It's a privilege to be able to volunteer with Pregnancy Matters™ online.
Margaret, a volunteer with the service for many years, specialises in post-abortion counselling. She shared with us:
It was a great experience. I think these meetings give us the strength to carry out the work of Pregnancy Matters™. The guidance, care and organisation make it such a special few days.
Jane, another stalwart of the service reflected:
It was useful and motivating to get up to date with new developments and to benefit from all of my colleagues with their undoubted experience and expertise.
Do you know someone who needs support?
If you ever know someone who could benefit from these services, please do put them in touch with us. Or perhaps you need some support? Whatever it is, we're just a click, text or call away. You can read our Pregnancy Matters™ terms of service here. Simply visit pregnancymatters.org.uk and click on one of the buttons to access our support – we're here for you.